This post may contain affiliate links. If you buy thru these links, we may earn a commission at no additional cost to you.
---
When teaching your dog a new trick or command — like Stay — you should "set things up" so that your dog will always succeed whenever you ask him to do it.
Why?
Because when a dog fails at something (that is, he doesn't get rewarded), then he is less likely to want to try it again.
When learning a new trick or behavior, no dog succeeds every time — especially in the beginning. So it's up to you to make sure your dog succeeds from the very first time you start teaching a new dog trick.
Here's how to do it…
Failure Is Not An Option
As I mentioned earlier, the best thing I took away from reading Jon Katz's book "Katz on Dogs" is:
Never set your dog up to fail.
Translated: Your dog wants to please you. He often just doesn't know how. That's why, when training your dog, you must always "set things up" so that your dog will SUCCEED each and every time. That's crucially important on the very first try. (And on the 2nd and 3rd tries, and so on.)
Why?
For your dog to want to do a particular behavior, he must first view it as a positive or pleasing experience. The moment he gets a "bad vibe" from you, the less eager he is going to be to ever try that again.
Here's how teaching your dog to "Stay" illustrates this principle…
How To Teach A New Command Or Dog Trick
Let's say you want to teach your dog to Stay.
At first, he won't have a clue as to what the word Stay means.
The very first time you motion to him and say "Stay" he will probably look at you like you're crazy! Most likely, he will immediately walk over to you… or lie down… or bark… or something in his attempt to figure out what you just asked him to do.
He needs your help to make sense of things.
Here's the secret to "setting your dog up to succeed" on his very first attempt at something…
For this example, let's teach a new dog command — like Stay:
1. Have a tiny dog treat in one hand.
2. Use your other hand to motion "Stay" (the palm of your hand in his face)
3. Back up a half-step, and BEFORE HE HAS A MILLISECOND TO MOVE, you say "Good Stay!" and give him the treat.
4. He still hasn't got a clue as to what just happened there, but he knows that he stayed right there and he got a good reward for that.
5. Try it over again – Steps 1 through 3 – only this time wait TWO milliseconds after backing up before you say "Good Stay!" and give him the treat.
6. Do it again – Steps 1 through 3 – and this time back up a tiny bit farther, and wait a couple seconds longer. You get the idea.
The point here is… you are setting your dog up NOT to fail.
You are setting him up only to succeed at learning this new command. And by constantly rewarding him, he knows that he's doing something right. It's that simple.
With this method, there is no possible way that your dog will fail at learning a new command. Therefore, he will continue to be rewarded. And, therefore, he will actually want to continue to do this same behavior again and again and again.
It's the world's simplest way to get a dog to do what you want him to do! (In this case, it's a dog command or a dog trick.)
With enough positive rewards from you for lots of small doses of success, your dog will eventually grasp the concept of Stay …or any other dog trick or training command that you are trying to teach him at the moment.
Plus, since you never scold him during this process (simply ignore any unwanted behaviors and reward only the positive ones), he will begin to see Stay as a good thing to do.
This way of thinking makes training a dog SO much simpler, don't you agree?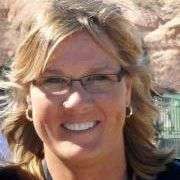 I like to help Dog Parents find unique ways to do things that will save time & money — so I write about "outside the box" Dog Tips and Dog Hacks that most wouldn't think of. I'm a lifelong dog owner — currently have 2 mixed breed Golden Aussies that we found abandoned on the side of the road as puppies. I've always trained my own dogs and help friends train theirs, as well. Professionally, I worked at a vet and have several friends who are veterinarians — whom I consult with regularly. (And just because I love animals so much, I also worked at a Zoo for awhile!) I've been sharing my best ideas with others by blogging full-time since 1998 (the same year that Google started… and before the days of Facebook and YouTube). My daily motivation is to help first-time dog owners be better prepared from the first day your new puppy enters your home. I like to help dog owners understand what's 'normal' and what you can expect in terms of living with and training your dog — how to get through the ups & downs of potty training, chewing, teaching commands, getting your dog to listen, and everything else that takes place during that hectic first year! When I'm not training, walking, grooming, or making homemade treats for my dogs, you will find me at the corner of Good News & Fun Times as publisher of The Fun Times Guide (32 fun & helpful websites). To date, I've written over 600 articles for dog owners on this site! Many of them have upwards of 200K shares.