This post may contain affiliate links. If you buy thru these links, we may earn a commission at no additional cost to you.
---
Destin was a sickly pup the day Jim brought him home. It was May 21, 2003.
Seeing Destin in Jim's arms when I got home from work was a complete surprise to me.
And hearing his story was even more touching…
Jim found Destin under a dumpster near his work. He was sickly and skinny. Jim risked a few fingers to grab this scared puppy from underneath the dumpster to 'rescue' him.
He immediately took Destin to our regular vet and got the rundown on everything that was wrong with him, health-wise. But it was all curable (for the most part), so it was up to me whether I thought we should bring this puppy into our family — which already consisted of one dog, Jersey. Or whether we should try to find a home for him, with the veterinarian's help.
Here are photos from Destin's first days at home with us…
Destin's First Home: Nashville Tennessee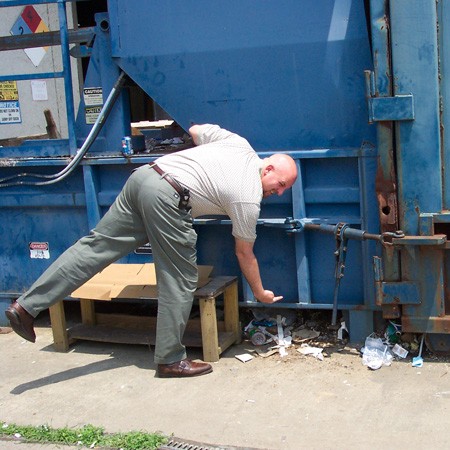 On May 21, 2003 Jim found Destin peeking out from under this garbage dumpster near his work in Nashville, Tennessee. He decided to try to "rescue" this sickly puppy, but Destin put up a fight — clawing and biting at Jim's arms and fingers. Jim hung tough and managed to pull Destin out by his fur. He finally calmed down in Jim's arms and Jim headed right to the vet with Destin in the car. The vet estimated him to be about 8-weeks of age and said he's part Black Lab, part Golden Retriever. (They also thought he looked part Bernese Mountain Dog, but the odds of one of those being a "mutt" on the wrong side of town, were quite slim.)
Destin's First Photograph


This is Destin's first solo photo at his new home. Before he even set paws in our house. The vet approximated his age at 8 weeks, which would have put his birthdate on or around March 26, 2003. So we chose March 31, 2003 as his official birthday because it was Lynnette's dad's birthday, and he always loved black labs. For the record, March 31, 2003 was documented to be "tater day" in the United States. (But no, he doesn't like potatoes…)
Jersey Meeting Destin For The First Time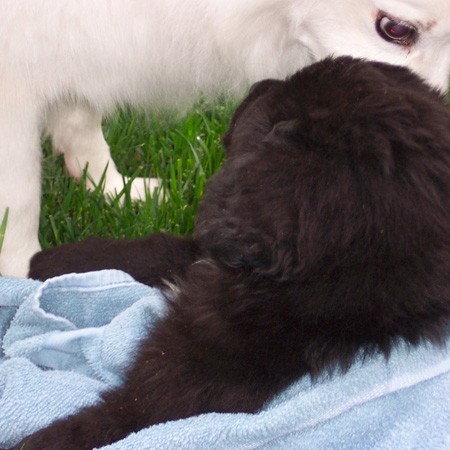 We already had one dog… 12-year-old Jersey had been "Lynnette's dog" and the only pet in the family up til now. This is Jersey's first time meeting Destin, still wrapped in a blue towel from his visit at the vet's office. For the inside scoop on how our dogs got their names, how they got along in those early days, and some of the best tricks we ever taught our dogs, go here.
Destin's First Time Inside The House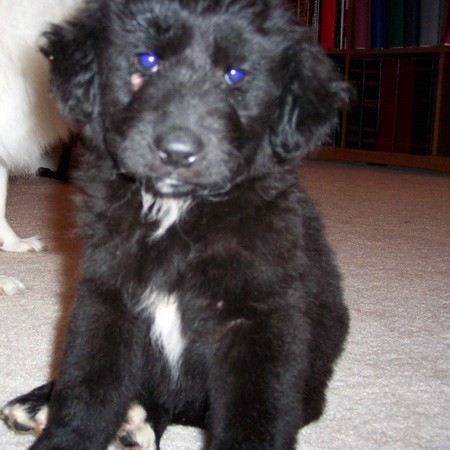 You could tell that Destin was so confused to be in our house. I think he missed that 'ol dumpster that he was used to.
Destin's Always Been A Snuggler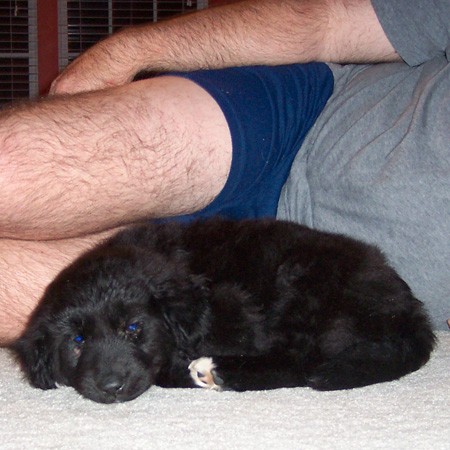 Destin's been a snuggler from Day One (aside from the fact that he tried to bite Jim's hand off when being retrieved from the dumpster). You could tell that he was becoming overwhelmed by all the activity inside our house – especially with another dog (Jersey) who was excited to get to know him. Here, Destin appears somewhat more content with his new surroundings and willing to accept this place as home now. (Either that, or he's feeling very guilty for nipping at Jim earlier!)
Lacking Energy, Destin Wants To Be Left Alone


You can see how sickly & exhausted this little guy is. He barely had the energy to keep his head up. When he first came into our home, Destin just hung out quietly by himself. He would sometimes try to follow Jersey's lead, but he didn't have much energy or playfulness in those early days. In fact, the vet said he had very few days left in him, and surely would've died soon had we not brought him in to see the vet when we did. He was very weak from lack of food & water, not to mention that he had scabies (mites) from hanging out in the dumpster, and a rare blood disease from a tick bite (similar to Rocky Mountain Spotted Fever).
An Unquenchable Thirst For Water


The good news: a little food and water put some pep back in his step. The scabies went away once and for all after about a month. And there are still no symptoms showing up from the blood disease, so chances are he's just a carrier rather than being inflicted with the painful disease. But ever since the day we first brought him home… Destin can't ever seem to get enough water!
Destin Unsure Of His New Surroundings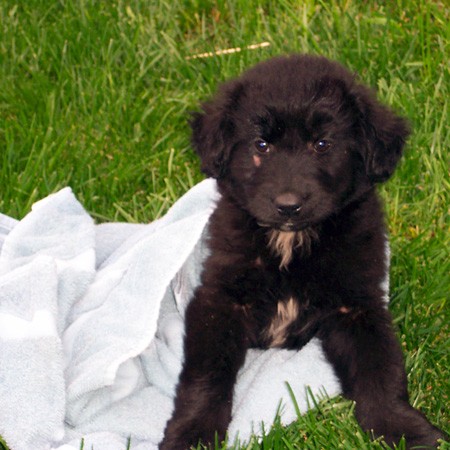 You can see all the little chunks of fur missing from Destin's face, neck, and arms. Actually, the big spot under his eye was done by the vet when she did a "skin scrape" to test for parasites. That's how she discovered that Destin had scabies (mites) from living under that dumpster amidst all the garbage. She said not to fear though, because there were very few cases of humans actually getting scabies from their pets.
Destin Bonded With Jim Right Away


Here he is after a nap. Still glad to be in Jim's arms. The signs were clear early on that Destin was "Jim's dog".
Destin After A Nap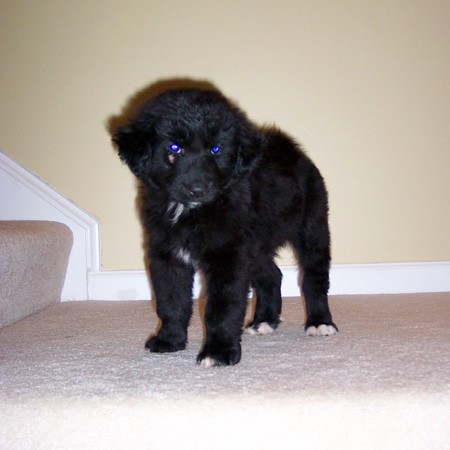 Here's Destin looking a bit more refreshed after a quick nap. Not really peppy or playful yet, he's at least more alert. Cute as can be, don't you think?
First Bath For Destin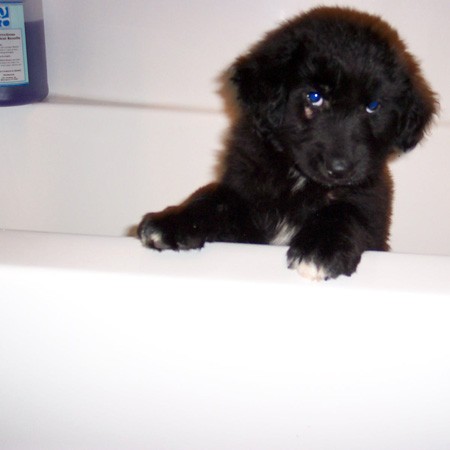 He was smelly and mangey from living under that dumpster, so we were eager to give Destin his first bath. He, on the other hand, wasn't quite so eager.
Grooming Destin


It was a full night of grooming for Destin. After his "very first bath", came his "very first brushing". Destin was so easy-going in those early days (still is, actually), and he let Jim do whatever was necessary to get him up to par in terms of cleanliness and appearance. There was no fuss from Destin when we bathed him, brushed him, even closed him in the bathroom to sleep… nothin! Guess he was just happy to be in a loving, warm home.
Tuckered Out After A Long Day In A New Home


By the end of the day, Destin was feeling pretty tuckered out and ready to call it a night. Here he's still getting comfortable with us and the fact that we're here to help him. As a puppy, he always sprawled out like this on the carpet.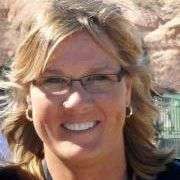 I like to help Dog Parents find unique ways to do things that will save time & money — so I write about "outside the box" Dog Tips and Dog Hacks that most wouldn't think of. I'm a lifelong dog owner — currently have 2 mixed breed Golden Aussies that we found abandoned on the side of the road as puppies. I've always trained my own dogs and help friends train theirs, as well. Professionally, I worked at a vet and have several friends who are veterinarians — whom I consult with regularly. (And just because I love animals so much, I also worked at a Zoo for awhile!) I've been sharing my best ideas with others by blogging full-time since 1998 (the same year that Google started… and before the days of Facebook and YouTube). My daily motivation is to help first-time dog owners be better prepared from the first day your new puppy enters your home. I like to help dog owners understand what's 'normal' and what you can expect in terms of living with and training your dog — how to get through the ups & downs of potty training, chewing, teaching commands, getting your dog to listen, and everything else that takes place during that hectic first year! When I'm not training, walking, grooming, or making homemade treats for my dogs, you will find me at the corner of Good News & Fun Times as publisher of The Fun Times Guide (32 fun & helpful websites). To date, I've written over 600 articles for dog owners on this site! Many of them have upwards of 200K shares.