This post may contain affiliate links. If you buy thru these links, we may earn a commission at no additional cost to you.
---
Are you thinking of adding a second dog to your household?  If you are, then be sure to introduce the two dogs to one another before you bring the new dog home.
The most important thing to do before you have two dogs in your house at the same time is to establish your role in the pack.
Yep, you read that right. To your dogs, you must always be seen as the pack leader for the group — from Day One.
You don't need to take this to an extreme or anything. Just make sure that it's always clear to your dog(s) that you are the chief around here. That's all. This is actually helpful to a dog because pack behavior is in their genes.
The survival advantages of pack living remain in our domestic canines. Source
In this case, you will be their pack leader. The pack leader provides discipline, sets limitations, and defines boundaries.
You want to make sure that your current dog clearly knows who is boss in your household — so they don't mistakenly think that they are the boss once the new dog enters the picture! This is especially true when the dogs are of the same sex.
Once you've done that, then you're ready to introduce the two dogs to each other.
Here's how to do it…
How To Introduce Two Dogs
Adding another dog to your household can bring you and your current dog more fun and companionship. However, it's important to realize that your current dog, might feel similar to how you might feel if your parents picked your friends and then told you to share your toys with them. In the long run, things will probably work out fabulously, but in the beginning it's a very smart idea to take a few extra steps to make everyone feel good about the new arrangement. Source
Do not just bring the two dogs together and hope for the best. You need to give a little bit of thought to how you are going to do things and how your dogs are likely to do things.
Try to stay calm, cool, and collected while the dogs get to know one another and don't force them to get along. Some dogs take longer than others to get acquainted.
Try to let your dogs get to know one another slowly and on their own terms — one dog at a time — rather than having the new dog meet two or more other dogs at once, if at all possible.
Here are 4 steps to follow when introducing your current dog to a new dog:
Here are some tips to ensure that your dogs continue to get along inside your home.
Sometimes, older dogs are aggressive with new puppies. If that's the case, just make sure that your older dog does not hurt your little puppy — especially during those first few days.
Puppies usually pester adult dogs unmercifully. Before the age of 4 months, puppies may not recognize subtle body postures from adult dogs signaling that they've had enough. Well-socialized adult dogs with good temperaments may set limits with puppies with a warning growl or snarl. These behaviors are normal and should be allowed. Source
If introducing the two dogs does not go smoothly for you, then find a local dog trainer to help you — and your dogs — get on the same page. (Remember, they do this for a living. You're definitely not the only one who needs this type of help!)
You could also ask your vet for some good — inexpensive — trainers in the area.
Never pat a dog showing signs of aggression. If a dog is showing signs of aggression; growling, barking, etc don't be quick to pet to calm them. Doing so only encourages this aggressive behavior. Only pet or show praise towards your dog when they are calm, obedient and on best doggy behavior. Source
What Are The Dogs' Personalities?
You can use these same tips when introducing your dog to other dogs at the dog park as well.
Many don't think about the dogs' individual personalities beforehand and just let all of the dogs run straight for one another to meet and establish their own dog hierarchy.
Like most animals who live in groups, dogs establish their own social structure, sometimes called a dominance hierarchy. This dominance hierarchy serves to maintain order, reduce conflict and promote cooperation among pack members. Source
Since I've seen firsthand the outcomes that can occur when putting dogs together for the first time, I prefer to keep my dog on a long, loose leash until I can tell that he's comfortable in the group. (It doesn't take long.) Then I stop being the over-protective mama and let him enjoy being a dog.
Here's a good way to think about a dog's personality and mannerisms:
If you were to compare your dogs to a traffic light, would you say they are "green light", "yellow light", or "red light" dogs?  A green light dog is friendly with all dogs and people and has appropriate meeting behaviors.  Yellow light dogs are those that are friendly but you should use some caution in managing their interactions. Whereas, red light dogs are very reactive toward other dogs and/or people.  This reactivity is usually aggressive looking.  However, with some dogs, it is friendly but extreme excitement that would cause most dogs to attack them due to their out of control, over the top, excited approach. You probably know which traffic light color your current dogs are as you have observed their interactions with others in many different situations.  If a current dog or the new dog would be considered a "red light" dog, you should not introduce them without the professional assistance of a Certified Dog Behavior Consultant.  Most aggressive red light dogs will lead happier lives being the only dog in the household and it is not worth the risk of injury to try to introduce them with other dogs in the household.  Instead, the goal should be to work with a consultant one to one, so that the red light dog can become a yellow light dog enabling you to walk your dog in public places. Source
This video give 2 different examples of dog-meet-dog encounters. One went well. The other… not so much!
More Tips For Introducing Two Dogs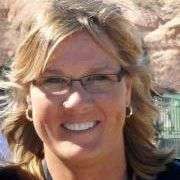 I like to help Dog Parents find unique ways to do things that will save time & money — so I write about "outside the box" Dog Tips and Dog Hacks that most wouldn't think of. I'm a lifelong dog owner — currently have 2 mixed breed Golden Aussies that we found abandoned on the side of the road as puppies. I've always trained my own dogs and help friends train theirs, as well. Professionally, I worked at a vet and have several friends who are veterinarians — whom I consult with regularly. (And just because I love animals so much, I also worked at a Zoo for awhile!) I've been sharing my best ideas with others by blogging full-time since 1998 (the same year that Google started… and before the days of Facebook and YouTube). My daily motivation is to help first-time dog owners be better prepared from the first day your new puppy enters your home. I like to help dog owners understand what's 'normal' and what you can expect in terms of living with and training your dog — how to get through the ups & downs of potty training, chewing, teaching commands, getting your dog to listen, and everything else that takes place during that hectic first year! When I'm not training, walking, grooming, or making homemade treats for my dogs, you will find me at the corner of Good News & Fun Times as publisher of The Fun Times Guide (32 fun & helpful websites). To date, I've written over 600 articles for dog owners on this site! Many of them have upwards of 200K shares.