This post may contain affiliate links. If you buy thru these links, we may earn a commission at no additional cost to you.
---
Tenor was born on November 3, 2005.
We were looking for a playmate for Destin at the time because we realized that Jersey was getting old and probably wouldn't be around to keep Destin company much longer.
We hand-picked little Tenor from a litter in a nearby town at 6 weeks of age. We finally took him home when he turned 8 weeks old.
He is part Black Lab (his dad), part Great Pyrenees (his mom).
Here are photos of Tenor's first days with us…
Don't Forget About Me!


The day we met Tenor… We actually had our heart set on a different puppy from the litter. But, in his own special way, Tenor begged us to choose him.
Tenor Stepped Up To The Plate


The day we were checking out the different puppies from the litter (Great Pyrenees/Black Lab), we had picked out our puppy and were about to leave when this little guy poked his head through Jim's legs. He started to become the obvious choice for us. Tenor definitely chose us before we chose him!
The Puppy We Thought We Wanted


This is Tenor's brother. The only difference is this one has four (4) white paws, whereas Tenor only has 3 white paws. This one had a sweeter, friendlier and more laid-back personality. Tenor remained to himself, until a few moments before we were about to leave. Then he showed his true colors.
Meet Tenor's Mom


This is Tenor's mom. She is a Great Pyrenees dog that mated with a Black Labrador Retriever dog. You can also see Tenor's older brother… a Black Lab born the year before from her first litter.
Tenor's Older Brother


The big Black Lab with white paws is Tenor's older brother. They have the same mother and father, but they were born a year apart.
I Choose This One


Jim is picking up Tenor for the first time. Remember, we thought we wanted a different puppy at first.
Yep, This One's A Keeper!


Even though he was pretty quiet, as a pup Tenor had a good bit of independence about him. He seemed even-tempered and mild-mannered… as far as puppies go!
Goodbye, Brother


This is the puppy we thought we wanted (with 4 white paws) kissing Tenor goodbye. Too cute, right?
Merry Christmas, Tenor!


We knew about Tenor's birth in October/November of 2005. But we didn't pick him up until the day after Christmas. So he was our Christmas puppy… You may recall that Jim and I don't really do "gifts" for each other. Instead, we get something that each of us would like. This Christmas, it happened to be a puppy!
Destin Meets Tenor For The First Time


We didn't do it exactly right… when you introduce a new dog to an existing dog in the household, you should do it on neutral ground. Instead, we just didn't think about it, so we rushed puppy Tenor right home to meet Destin in the backyard.
Destin Wasn't Sure How To React


Little Tenor was intimidated by big dog Destin at first. And Destin wasn't sure what to think.
I'm In A Pickle…


Hours after his arrival at our home, little Tenor felt trapped here on the bottom step. He wasn't quite comfortable with walking up (or down) stairs yet. So he felt he had nowhere to go, and there was this big dog pulling some weight already around here.
Dog Looks Like A Bunny Rabbit


As cute as he is, I can't help but think that little Tenor looks like a bunny rabbit here.
Grinning Ear To Ear


We had anticipated Tenor's arrival for nearly 2 months, and it felt like it took forever for that day to arrive. We were so happy the day we took Tenor home for the first time.
Strutting His Stuff


Little Tenor had all the confidence in the world that first day we brought him home. He was strutting his stuff around Destin without thinking twice.
A Puppy's First Dog Treats


Tenor gets to taste dog treats for the first time.
Mmm Mmmm Good


Tenor likes dog treats!
Learning From The Big Dog


Little Tenor sits in the background, just scoping out the situation. He's watching to see how Destin runs up all those steps to get back in the house.
That's One Big Step For A Little Dog


Tenor decides to tackle the steps on his own…
Whoa There, Little Guy!


On the second go-around, Destin's not so sure he likes Tenor having this much freedom to roam around his house!
Small Dog, Big Smiles


Tenor looks happy to be in his new home. (…Notice how he's sitting in the small water bowl we put out for him!)
Tenor Thinks He's A Big Dog Now


Tenor strutting his stuff around the house… he's still getting comfortable with his new surroundings.
A Thirsty Puppy


This is still Day One, when we brought Tenor home for the first time. He was really thirsty.
Puppy Catches A Cat Nap


Tenor found a safe place to take a snooze. Notice the bunched-up folds of his chubby cheeks!
We're Friends, Right?


Little Tenor: "Okay… we're friends now, right?"
New Friends: Jersey and Tenor


Tenor (underneath the glass table) and Jersey (the white American Eskimo) clicked right away — mostly because Jersey is just about as laid back as they come. He's never been territorial or bullyish. He's everyone's friend. On the other hand, Destin (our Black Lab / Golden Retriever mix) is sweet and laid back too… like a lion!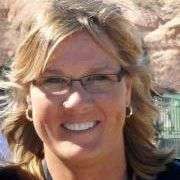 I like to help Dog Parents find unique ways to do things that will save time & money — so I write about "outside the box" Dog Tips and Dog Hacks that most wouldn't think of. I'm a lifelong dog owner — currently have 2 mixed breed Golden Aussies that we found abandoned on the side of the road as puppies. I've always trained my own dogs and help friends train theirs, as well. Professionally, I worked at a vet and have several friends who are veterinarians — whom I consult with regularly. (And just because I love animals so much, I also worked at a Zoo for awhile!) I've been sharing my best ideas with others by blogging full-time since 1998 (the same year that Google started… and before the days of Facebook and YouTube). My daily motivation is to help first-time dog owners be better prepared from the first day your new puppy enters your home. I like to help dog owners understand what's 'normal' and what you can expect in terms of living with and training your dog — how to get through the ups & downs of potty training, chewing, teaching commands, getting your dog to listen, and everything else that takes place during that hectic first year! When I'm not training, walking, grooming, or making homemade treats for my dogs, you will find me at the corner of Good News & Fun Times as publisher of The Fun Times Guide (32 fun & helpful websites). To date, I've written over 600 articles for dog owners on this site! Many of them have upwards of 200K shares.