This post may contain affiliate links. If you buy thru these links, we may earn a commission at no additional cost to you.
---
I recently tried the Pledge Fabric Sweeper for Pet Hair for the first time.
I have to say, I was pleasantly surprised (…though not 100% sold on the product on first glance).
I've written about my frustrations with pet hair before, so I really like having yet another tool in my arsenal of dog fur removal items.
I don't know if it's the end-all be-all to pet hair removal from furniture, but it's close!
Here's why I like the Pledge Fabric Sweeper…
If you're a pet owner, then you know that it's always nice when you have a quick & easy go-to method of removing pet hair from furniture.
It's especially handy to have a gadget like this when you're expecting guests to arrive soon.
My current method of pet hair removal from furniture is to use the same type of lint brushes you would typically use on clothes. I have a couple that I don't use on clothes… I only use them on the furniture to remove dog fur.
This is the same concept used with the Pledge Fabric Sweeper for Pet Hair.
So, here are the pros & cons, as I see it…
PROs
#1 – It's lightweight and easy to use.
There's nothing to "learn" prior to using this pet hair remover. Even kids can do it!
The thing that makes this gadget work so well at removing pet hair is the way it grabs the fur on rollers, and traps the pet hair inside.
As you go in one direction, one roller picks up the pet hair from the surface. When you go in the other direction, the second roller cleans off the first and pushes the pet hair inside. 

— Pledge
So, yes, they do recommend using short strokes in various directions, but that's pretty easy to remember.
#2 – There's no motor, no sharp edges, no loud noises, no sticky residue, no chemicals.
'Nuff said.
#3 – It's quick and easy to use.
Simply swipe and go!
The way the rollers are designed, it's pretty much self-cleaning.
One Pledge Fabric Sweeper picks up as much pet hair as 145 sticky roller sheets. 

— Pledge
#4 – It removed my dog's fur from his pet bed after just a few swipes.
Pretty cool! I'll definitely be using this pet hair remover on the "people" furniture before guests arrive in the future.
NOTE: In these photos, it might appear that the Pledge Fabric Sweeper managed to remove all of the dog fur from the pet bed. But what's harder to see are a few of the smaller hairs that it left behind. No matter how many times I'd go over the same spot, the short thin hairs seemed to just get pushed around on the pet bed. Works great on long pet hair though!
CONs

#1 – It looks, well… cheap.
This is kind of nit-picky, but the Pledge Fabric Sweeper for Pet Hair looks more like a "prototype" than an actual award-winning design, if you ask me.
While it's very lightweight and handy to grab and use in a jiffy, it's definitely not very "classy" looking.
I mean, compared to other cool pet gadgets, this one is rather cheap and plasticy looking. It's not impressive on first glance, but it's functional nonetheless.
My guess is they're waiting to see if this pet hair remover takes off or not before they invest in the design. Oh well, looks aren't everything!
#2 – It's kind of expensive.
You can usually find the Pledge Fabric Sweeper for Pet Hair at stores like Walmart and Target  between $5 to $10.
For a disposable item, that's slightly expensive in my  mind; especially if you need to replace it sooner that I will. (We use the Furminator all the time, so our dog doesn't shed quite as much as he used to.)
#3 – Mixed results on carpet.
Then again, it says "fabric sweeper", not "carpet sweeper"…
Still, it's worth mentioning that this pet hair remover won't work so well on carpet or pet items that are covered with carpet — such as cat climbing towers and doggie steps or ramps.
On the flip side, I found that it works great on lamp shades! It removes the built-up dust and dog fur at the same time.
I know, I wondered that too… how in the world does pet hair land in high up places like lampshades? Best I can tell, dog fur is airborne — much like a virus. Once you've got it, it's hard to get rid of it, and it ends up in places you'd never dream of! One quick glance around my house confirms this.
#4 – It's disposable. (Wait… see UPDATES below!)
On first glance, you might think this pet hair remover could last a lifetime, because the rollers only come in contact with your furniture and the rollers themselves. So it seems a rather clean and self-contained contraption.
In the end, the one thing that determines the life of this product is the amount of pet hair contained inside. Once it gets full (which for me, would be a long time), it's done.
For some reason, you can't open it up to clean off the rollers yourself or remove the pet hair inside. It "looks" like you can, but you can't; it's sealed tight. Bummer, I would prefer a reusable pet hair remover that you could add new rollers to, after they wore out.
Do not wash or rinse rollers. Do not try to empty or disassemble disposable sweeper.

— Pledge
A Few Honest Reviews…
---
---
UPDATE #1: It's reusable… with a few tweaks.
After seeing JW's comment below, I went searching for the video that shows how to remove the rollers in order to remove the pet hair that's collected. This way, you can re-use the disposable version of the Pledge Fabric Sweeper for Pet Hair again and again! Here's the video:
---
Here are step-by-step instructions for emptying the Pledge Fabric Sweeper.
UPDATE #2: There's now a fully reusable version!
Thank goodness! They've finally removed all doubt (and frustration) for pet owners who've been hacking the original Pledge Fabric Sweeper for Pet Hair in order to make it disposable.
There's now a fully reusable Pledge Fabric Sweeper for Pet Hair that requires no special steps or instructions. A flick of the switch on the side of the sweeper opens and closes the lid.
So, once and for all, the Pledge Fabric Sweeper is indeed reusable!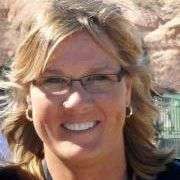 I like to help Dog Parents find unique ways to do things that will save time & money — so I write about "outside the box" Dog Tips and Dog Hacks that most wouldn't think of. I'm a lifelong dog owner — currently have 2 mixed breed Golden Aussies that we found abandoned on the side of the road as puppies. I've always trained my own dogs and help friends train theirs, as well. Professionally, I worked at a vet and have several friends who are veterinarians — whom I consult with regularly. (And just because I love animals so much, I also worked at a Zoo for awhile!) I've been sharing my best ideas with others by blogging full-time since 1998 (the same year that Google started… and before the days of Facebook and YouTube). My daily motivation is to help first-time dog owners be better prepared from the first day your new puppy enters your home. I like to help dog owners understand what's 'normal' and what you can expect in terms of living with and training your dog — how to get through the ups & downs of potty training, chewing, teaching commands, getting your dog to listen, and everything else that takes place during that hectic first year! When I'm not training, walking, grooming, or making homemade treats for my dogs, you will find me at the corner of Good News & Fun Times as publisher of The Fun Times Guide (32 fun & helpful websites). To date, I've written over 600 articles for dog owners on this site! Many of them have upwards of 200K shares.