Here's some Paris Hilton news, as it relates to her dog, Tinkerbell…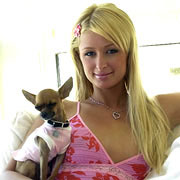 Some Headlines Featuring Paris Hilton And Tinkerbell:
Paris Hilton uses 'Tinkerbell' as password and gets hacked.
Paris Hilton now designs doggie jewelry …who knew?!
Dog magazine names Paris Hilton worst dog owner.
Mutt Wars: Britney Spears vs Paris Hilton.
The Paris Hilton Collection of fashionable dog clothing called "Little Lily".
Listen to Bud Light's Real Men of Genius commercial "Mr. Tiny Dog Clothing Manufacturer" & check out more doggie clothing.
Rumor: Did Paris Hilton give Tinkerbell to her mother in exchange for an even smaller dog, Bambi?
The The Paris Hilton Collection sold exclusively at Amazon.com includes this adorable crystal doggie collar:
,