For the dog lover who has everything…
The following electronic gadgets will give dog owners peace of mind, a way to communicate, and a fun way to stay organized.
These items can be used whenever you're away from your pet, you want to keep tabs on your pet, or you just want to have at hand everything there is to know about your dog — all in one place.
Enjoy!
#1 – PetCell: A Cell Phone For Dogs & Their Owners
The PetCell (a cell phone for dogs) permits dogs and their owners to "communicate" when they are away from each other. The bone-shaped device fits right on the dog's collar. It's a rugged, waterproof cell phone with GPS.
How it works:
"The owner dials their dog's number and after one ring, it automatically connects to the phone on the dog's collar, allowing the dog to hear its master's voice, transmitted out of a speaker built into the collar-piece. If the dog barks in response, the owner will hear it through their own telephone, creating a dog-owner telephone "conversation."
—Source
The PetCell also has a "call owner" button in case your dog strays. Plus, it includes assisted GPS which works indoors, allowing dog owners to map their pup's coordinates from any web-enabled device or by dialing a voice-enabled call center.
There's also an option called GeoFence that alerts the dog owner whenever their dog wanders beyond preset parameters. There are built-in temperature sensors too, which indicate if the dog is too hot or cold.
"Additionally, the PetCell will support a small wireless camera, an application Robb believes could be useful in search-and-rescue or bomb-squad missions. But for patrons of doggy day care, it may become the canine equivalent of a nanny cam.—Source
Get it here.
#2 – Global Pet Finder: A Doggie GPS Locater
You never have to worry where your pampered pooch is (or where he's been) again.
Simply stick this GPS transmitter on your dog's collar and the Globalpetfinder will keep tabs on your dog's whereabouts 24/7. It's a GPS system that sends messages to your cellphone each time your dog strays from a designated area.
Get it here.
#3 – PetMaster: A PDA For Your Dog
The PetMaster is an electronic scheduler and portable pet database that enables you to enter your dog's schedule (vet appointments, medication schedule, playdates in the park), phone contacts (vet, groomer, pet sitter), and a Shopping & To Do list (buy more dog food, stock up on pet care items, etc.) and have it with you wherever you go. The alarm feature notifies you when an appointment is nearing.
You'll certainly be the most organized pet owner on the block!
Plus, Pet Master includes all of the information contained in the 292-page The Everything Dog Book and the 306-page The Everything Cat Book, so you can get helpful tips & advice — even emergency information — while on the road!
Pet Master is also great for dogs and their owners who like to travel a lot. You can use it to locate pet-clinics and pet-friendly motels while traveling.
Get it here.
And, if you've already got your own Palm PDA, check out these fun files specifically for use on Palm OS devices for various canine-related activities, plus lots of tips and hints on other ways to use your Palm!
#4 – Dog Doorbell: Wireless Remote Control Paw Pad For Dogs
This wireless remote control doorbell for dogs features a dog paw pad that your dog can use to activate the door chime. Dogs can be taught to press the paw-shaped transmitter to signal whenever they want to go outside or come inside.
Get it here.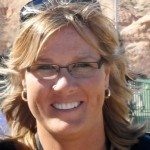 I like to help people find unique ways to do things in order to save time & money — so I write about "outside the box" ideas that most wouldn't think of. As a lifelong dog owner, I often share my best tips for living with and training dogs. I worked in Higher Ed over 10 years before switching gears to pursue activities that I'm truly passionate about. I've worked at a vet, in a photo lab, and at a zoo — to name a few. I enjoy the outdoors via bicycle, motorcycle, Jeep, or RV. You can always find me at the corner of Good News & Fun Times as publisher of The Fun Times Guide (32 fun & helpful websites).
,