---
This post may contain affiliate links. If you purchase through these links, we may earn a small commission at no additional cost to yourself.
---
I've seen Freshpet dog food in the refrigerator section of the pet food aisle in stores before — and you probably have, too. It's right next to the Biljac frozen dog food that I always buy for my dog.
One out of every 5 consumers is buying human foods to feed his/her pets in order to offer healthier alternatives to what's in the pet food aisle. 

– American Pet Products
I've considered buying Freshpet refrigerated dog food and serving it up in small doses as special treats for my dog — just like I do with the Biljac. (I often give premium brands of dog food as "treats" to my dog.) It would also make great filler for Kong toys that my dog enjoys so much.
Ready to Bake Cookies for dogs are the newest item added to the all-natural pet food line-up at Freshpet.
The folks at Freshpet invited me to try their new dog treats, and I jumped at the chance.
Are you kidding? I've heard great things about the company and their all natural dog food products. So yeah, I'd love to introduce Freshpet "homemade" dog cookies to my dog and see what he thinks!
And personally, (as long as they're priced low enough) I would love to keep ready-bake dog treats like this on hand for special occasions and fun dog treats.
First Impressions
For starters, I can't believe how awesome the packaging was for these Ready to Bake Cookies for dogs.
Freshpet included a super high-quality apron and a fun zippered cooler — that perfectly held 2 boxes of Ready to Bake Cookies and 2 ice packs to keep them cold during shipping.
I got a box of Peanut Butter & Oatmeal cookies and a box of Oatmeal & Cranberry cookies.
When the box arrived via UPS, I was in the middle of a big project. But I dropped everything so I could make my first batch of "homemade" dog cookies right away. (My dog pretty much insisted. He knew something in that box smelled delicious!)
I started by making a half batch (half the box) of the Peanut Butter & Oatmeal cookies.
Ready To Bake Cookies Are Quick & Easy!
The folks at Freshpet couldn't have made the experience of baking dog treats any easier…
For one, they did all the hard work of gathering the ingredients, mixing up the ingredients, and forming the dough into little cookies.
Each box of Ready to Bake Dog Cookies includes 18 perfectly round little patties… ready for baking!
Move over Betty Crocker, Freshpet now offers fresh, ready to bake cookies — for dogs! New Ready to Bake Cookies, available int he pet food aisle refrigerator, gives dog lovers everywhere a run way to make delicious, homemade cookies for their four legged family members. Just like human cookies made from scratch, they are 100% all natural, contain no preservatives, and are made of simple ingredients like crunchy peanut butter, whole oats, and dried cranberries. But there's no need to measure and mix; simply take the pre-shaped dough out of the refrigerator, place on a baking sheet in the oven, and in minutes you'll be ready to treat your dog to freshly baked cookies. They look and smell so good dogs won't be the only ones drooling in the kitchen.

—Freshpet
Fun Tips For Making Dog Cookies
The package directions say to flatten each cookie patty prior to baking.
Instead of using the palm of my hand, as they suggest, I used the smooth bottom of a metal measuring cup.
TIP: Unless you spray it first with some vegetable oil, the cookie patties will stick to the measuring cup — and a broken cookie patty won't go back into a perfect circle.
And since I always like to take things a step further by adding my own ideas, I had some fun by making each of the Ready to Bake Cookies unique and different:
On some, I used a multi-holed cooking spoon to press a pattern into the tops prior to baking. After baking, it was similar to the look of the cross marks on human peanut butter cookies.
On others, I simply pressed a single "chunky" piece of dog kibble or dog treat into the center of the dough.
For some, I pressed dog breath mint into the center. (Most dogs hate the taste of mint. Mine included. So I hide dog breath mints inside his dog treats instead.)
I like how the ones with the chunky dog kibble in the center look like Hershey Kiss cookies that my mother-in law makes for us each Christmas.
The others also look like regular homemade cookies… for people!  
TIP: I baked them just over 10 minutes. They were crunchy on the outside, and softer on the inside.
These are some of the ideas I plan to try when baking future batches of Freshpet Ready to Bake Cookies:
Sprinkle parsley on top (or press some into the cookie patty itself) — helps with doggie breath.
Press several small pieces of dog kibble into the pre-shaped cookie patty (instead of one big piece like I did with the first batch) — just for variety.
Mash a couple of pieces of my dog's all-time favorite treat (Biljac frozen food pellets) into some of the cookie patties. Or do the same with a 1-2 Biljac soft liver treats.
For non-peanut butter flavored ones (like the Freshpet Oatmeal & Cranberry cookies), I might add some bits of chunky peanut butter on top of a few cookies prior to baking (or maybe after baking, if they turn out to be a flavor that he doesn't like) — because he'll eat anything with peanut butter in it or on it.
Does My Dog Like These Ready To Bake Cookies?
Heck yeah — he loves them! Seriously.
It was the cutest thing…
When I opened the box, it was as if he sensed that what was in this box was for him. His Drool-o-Meter kicked into high gear moments after I cracked opened the box.
Then, as I was preparing the cookies prior to baking (remember, there's really no preparation necessary — just put 'em on a cookie sheet and bake for 10 minutes — but I chose to spend a couple extra minutes jazzing them up just because), my dog sat quietly on the rug next to the table… just waiting… patiently. However, his jowls sprung a leak! Drool started dripping at high speed from the corners of his mouth.
As the cookies were baking, I figured I had 10 minutes to finish that project I was working on upstairs. My dog usually follows me everywhere — even upstairs. But this time he didn't budge! He remained on the rug in the kitchen with his eyes glued to the oven. He knew there would soon be some heavenly goodness coming from there!
When I took the cookies out of the oven, he couldn't believe it when I didn't start serving them up (because they were hot).
And I couldn't believe how much they looked and smelled just like regular, peanut butter cookies — for people! They smelled identical to the real thing.
Finally, after the cookies had cooled, I gave him his first taste. "To die for!" was the look he gave me.
Now the truth…
My dog is a very picky eater. He won't eat most treats that other dogs would gobble up in a heartbeat — like Milk Bone dog treats, among others. And he won't touch most people food. (That's because he's never had it. We've only given him peanut butter, cottage cheese, pumpkin, and cheddar cheese. The rest is completely foreign and unappetizing to him.)
But when he finds something he likes, he's all over it — and these Ready To Bake Cookies from Freshpet apparently fit the bill!
He went on to gobble up 2 more cookies right away.
Peanut butter is his flavor of choice — so the fact that the smell of fresh-baked peanut butter cookies filled the room didn't hurt. (I can't wait to see how he likes the Oatmeal & Cranberry ones.)
My Thoughts About Freshpet Ready To Bake Cookies…
Homemade dog treats can be storebought!
I will definitely be buying the Peanut Butter & Oatmeal Ready to Bake Cookies, and I look forward to trying some of the Freshpet dog food products, as well.
I plan to include them, along with other fun ingredients, in my dog's Kong toys. (I like to constantly vary the ingredients in my dog's treats — because variety is the spice of life. Right?)
I absolutely love how quick and easy it was to make these "homemade" dog treats. "No preparation necessary" is a pretty good deal.
And so is the price! At $4.99 for a box of 18 Ready to Bake Cookies (Peanut Butter & Oatmeal), you don't feel like you have to splurge to give your dog a special treat. (It's $6.99 for the Oatmeal & Cranberry.)
Personally, I like giving my dog extra-special homemade treats like this only on rare occasions. So the 2 boxes of 18 cookies per flavor will last us a long time.
I'd like these dog cookies even better if they were just a tad smaller. Straight out of the box and baked as directed, they're average-sized — like human cookies.
For most people, the Ready to Bake cookie sizes will be perfect. For me, I cut them in half because my dog already gets a lot of treats in a day. (Every time he comes on command — like after he's been playing outdoors — which is several times each day. And any time he does anything else "on command". Yeah, he's always "in school".) Therefore, smaller portions are better for us — and would make it possible to spread out the goodness over more days!
From here on, I plan to make only 2 or 3 cookies at a time, and then re-freeze the remaining uncooked cookies each time.
And to make it even easier, with no time spent waiting to pre-heat the oven, I'll just stick a couple of the cookies on a cookie sheet immediately after I've used the oven to cook a meal for hubby and I. That way, it's conserving energy a bit too.
Most of all, I love the fact that these "homemade" dog treats are made with all-natural ingredients. And they're super-fresh the moment you open the box. Because fresh is best!
Freshpet's Philosophy
Fresh, refrigerated food
Because fresh is best
Quality ingredients
Cooked, not processed
All-natural homemade treats from your oven
Currently, Freshpet is the only brand of fresh, refrigerated pet food in the market.
All Freshpet foods are made with fresh, natural ingredients, and provide nutritionally balanced meals – and pets love them. Give your pet the fresh food experience.

—Freshpet
Some interesting things I've learned about Freshpet dog food and treats:
All Freshpet dog foods are made in the United States.
Freshpet foods are available in multiple forms to address the preferences of the pet and the owner (pet's size, convenience, flavor preference of the pet).
Freshpet Select Roasted Meals are made from all natural ingredients and do not contain corn, wheat, fillers, or by-products. Each recipe starts with high quality proteins, vitamin-rich vegetables, and high fiber grains. The ingredients are gently cooked to retain their nutrients without the use of any artificial preservatives.
Freshpet Vital Complete Meals recipes are grain-free and contain 80% or more animal protein, providing an easily digestible and 100% complete and balanced meal. Each recipe is made from all natural ingredients and never contains corn, wheat, soy, or by-products. The ingredients are gently cooked to retain their nutrients without the use of any artificial preservatives. Furthermore, Vital recipes were created to mimic carnivorous diets. They contain 80% or more fresh poultry, meat or fish, are free of grains and include pomegranates, dark berries, and leafy greens for antioxidant support. VItal Complete Meals are a safe alternative to raw feeding and home cooking regimens.
Just to be clear, Freshpet foods are not organic. "Few if any pet foods are 100% organic due to difficulty in sourcing organic ingredients as well as their costliness. At Freshpet our focus is on finding the highest quality, freshest, all natural ingredients."
The natural flavors are a proprietary blend of ingredients such as vinegar, celery, lemon juice, and natural hickory. The total amount is less than 2% of the recipe. These flavors enhance the natural flavors of the meat.
Freshpet refrigerated dog food can be frozen and stored for future use. However, it's worth noting that no Freshpet foods are frozen before you purchase them in your local store. If you do decide to freeze the food, you may see a slight change in color and texture when thawed out.
Use their store locator to find Freshpet dog food and treats near you. (Near me, they're available at Food Lion, Target, PetSmart, Kroger, Publix, and Petco.) Some Freshpet products are also available online.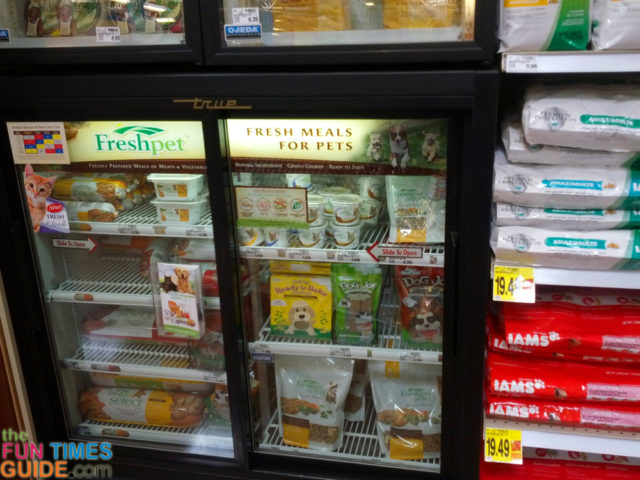 We know a lot of pet owners love to pamper their dogs, and some already make cookies for them from scratch on special occasions, just as they would for other family members. We wanted to give them an easy and healthy way to do something special any day of the week. It's an indulgent treat they can really feel good about feeding.

—Freshpet
What Other Dog Owners Think About Freshpet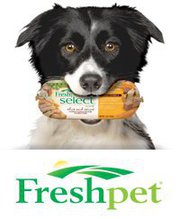 In addition to my own review above, you might find some valuable tidbits about Freshpet dog food in these dog owners' reviews as well: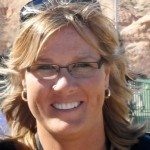 I like to help Dog Parents find unique ways to do things that will save time & money — so I write about "outside the box" Dog Tips and Dog Hacks that most wouldn't think of. I'm a lifelong dog owner — currently have 2 mixed breed Golden Aussies that we found abandoned on the side of the road as puppies. I've always trained my own dogs and help friends train theirs, as well. Professionally, I worked at a vet and have several friends who are veterinarians — whom I consult with regularly. (And just because I love animals so much, I also worked at a Zoo for awhile!) I've been sharing my best ideas with others by blogging full-time since 1998 (the same year that Google started… and before the days of Facebook and YouTube). My daily motivation is to help first-time dog owners be better prepared from the first day your new puppy enters your home. I like to help dog owners understand what's 'normal' and what you can expect in terms of living with and training your dog — how to get through the ups & downs of potty training, chewing, teaching commands, getting your dog to listen, and everything else that takes place during that hectic first year! When I'm not training, walking, grooming, or making homemade treats for my dogs, you will find me at the corner of Good News & Fun Times as publisher of The Fun Times Guide (32 fun & helpful websites). To date, I've written over 600 articles for dog owners on this site! Many of them have upwards of 200K shares.