This post may contain affiliate links. If you buy thru these links, we may earn a commission at no additional cost to you.
---
Why do dogs eat grass, anyway? Some say it's your dog's way of getting their veggies.
Even the vet will tell you, it's perfectly normal for your dog to eat grass on occasion.
In most cases, grass eating is a common behavior in normal dogs and has no correlation with illness. Additionally, most dogs do not appear to routinely vomit after eating grass. — Phil Zeltzman, Veterinary Surgeon
I try to keep my dogs from munching on grass.
Here's why…
Why Does My Dog Eats Grass
For the most part, of the many dogs I've had through the years, most chose to eat grass semi-regularly.
And when they did, it almost always made them vomit. If I stopped them early enough, they wouldn't get enough in their system to actually make them sick.
The vet has always said that dogs eating grass is perfectly normal and nothing to worry about. Usually, it's your dog's own way of treating an upset stomach.
But when I began to notice that they didn't seem to have any diarrhea (before or after eating the grass), I began to wonder if the grass wasn't causing the discomfort instead. (Diarrhea is usually a good sign that something's going on in your dog's digestive tract.)
Most people — including veterinarians — will tell you that grass is generally harmless to dogs, particularly if the grass is free of pesticides and sprays.
…which, near a fence line is not always easy.
Grass = Veggies For Dogs?
Some say it's just your dog's way of getting their veggies.
But to me, the worst part is not just that it makes them vomit. It's that it makes them vomit after some time has passed — which usually means that they're in the house!
It's no fun cleaning up mucusy-grass vomit — especially when it's preventable if you don't let them eat the grass in the first place. For that reason, I always try to stop our dogs when I see them munching on grass.
If you feel your dog needs more veggies, try something like Pegetables instead.
There actually appears to be 2 types of grass eating behavior in dogs. Some dogs take a few nibbles, while others eat quickly, barely chewing the grass. Unchewed grass often translates to near instant vomiting. Dogs that are careful grazers, on the other hand, may not get sick from grass.  Source
More About Dogs Eating Grass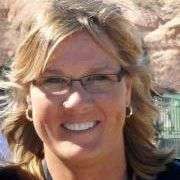 I like to help Dog Parents find unique ways to do things that will save time & money — so I write about "outside the box" Dog Tips and Dog Hacks that most wouldn't think of. I'm a lifelong dog owner — currently have 2 mixed breed Golden Aussies that we found abandoned on the side of the road as puppies. I've always trained my own dogs and help friends train theirs, as well. Professionally, I worked at a vet and have several friends who are veterinarians — whom I consult with regularly. (And just because I love animals so much, I also worked at a Zoo for awhile!) I've been sharing my best ideas with others by blogging full-time since 1998 (the same year that Google started… and before the days of Facebook and YouTube). My daily motivation is to help first-time dog owners be better prepared from the first day your new puppy enters your home. I like to help dog owners understand what's 'normal' and what you can expect in terms of living with and training your dog — how to get through the ups & downs of potty training, chewing, teaching commands, getting your dog to listen, and everything else that takes place during that hectic first year! When I'm not training, walking, grooming, or making homemade treats for my dogs, you will find me at the corner of Good News & Fun Times as publisher of The Fun Times Guide (32 fun & helpful websites). To date, I've written over 600 articles for dog owners on this site! Many of them have upwards of 200K shares.