This post may contain affiliate links. If you buy thru these links, we may earn a commission at no additional cost to you.
---
A reader recently asked us this question:
Dog lost teeth. How can I care for her tongue? It hangs out all the time. Will she be in pain? 

~Gail
Hanging Tongue Syndrome is a condition where a dog's tongue hangs out of his mouth all the time and the dog is unable to bring her tongue in at will.
This could be due to the dog's breed, a mouth or jaw injury, or deformities of the mouth or teeth, among other things.
Other times, things like medications or the removal of teeth could temporarily leave your dog's tongue hanging outside of his mouth.
If a dog is not able to moisten her tongue by bringing it fully into the mouth, then the tongue could become dry or cracked over time and cause the dog some pain.
Here's what you need to know…
How To Care For A Dog's Tongue
If your dog can't or won't bring her tongue inside her mouth to moisten it on occasion, then you need to take a few extra steps to care for your dog's tongue.
Only your vet can accurately determine whether your dog has Hanging Tongue Syndrome or not, and whether she is in pain from it or not.
To ensure that your dog's tongue does not become too dry or cracked you can do the following:
Apply a small amount of olive oil all over your dog's tongue to keep it lubricated. You may need to do this a few times a day. (Bonus: it's also good for a dog's dry skin and coat!)
Routinely encourage your dog to drink water. This will help to lubricate the tongue and mouth.
Encourage your dog to lick ice cubes or frozen dog treats. (Hint: You can also freeze leftover chicken broth and other non-salted liquids in ice cube trays for your dog to enjoy later!)
Apply a few drops of water directly onto your dog's tongue throughout the day.
In rare instances, a dog's tongue may need to be surgically shortened in order to alleviate further problems.
Signs To Watch For
Take the time to regularly inspect your dog's tongue looking for changes in texture, color, size, or bleeding. If you notice any of these things, take your dog to the vet right away, because they could signal deeper issues — such as an infection or neurological problems.
If your dog's tongue hangs outside of his mouth, then you'll need to closely monitor your dog's time spent outdoors because…
Too much time in the sun could lead to a sunburn on your dog's tongue.
Too much time spent outside in the cold winter months could lead to frostbite on your dog's tongue.
More About Dog Hanging Tongue Syndrome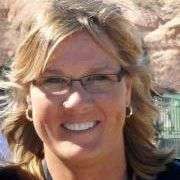 I like to help Dog Parents find unique ways to do things that will save time & money — so I write about "outside the box" Dog Tips and Dog Hacks that most wouldn't think of. I'm a lifelong dog owner — currently have 2 mixed breed Golden Aussies that we found abandoned on the side of the road as puppies. I've always trained my own dogs and help friends train theirs, as well. Professionally, I worked at a vet and have several friends who are veterinarians — whom I consult with regularly. (And just because I love animals so much, I also worked at a Zoo for awhile!) I've been sharing my best ideas with others by blogging full-time since 1998 (the same year that Google started… and before the days of Facebook and YouTube). My daily motivation is to help first-time dog owners be better prepared from the first day your new puppy enters your home. I like to help dog owners understand what's 'normal' and what you can expect in terms of living with and training your dog — how to get through the ups & downs of potty training, chewing, teaching commands, getting your dog to listen, and everything else that takes place during that hectic first year! When I'm not training, walking, grooming, or making homemade treats for my dogs, you will find me at the corner of Good News & Fun Times as publisher of The Fun Times Guide (32 fun & helpful websites). To date, I've written over 600 articles for dog owners on this site! Many of them have upwards of 200K shares.