This post may contain affiliate links. If you buy thru these links, we may earn a commission at no additional cost to you.
---
Cute puppies lend themselves to some really cute puppy pictures.
From the curious and playful tiny pups to those who tend to be rough & rowdy and always the center of attention, you can always count on one thing: a cute puppy photo in the end.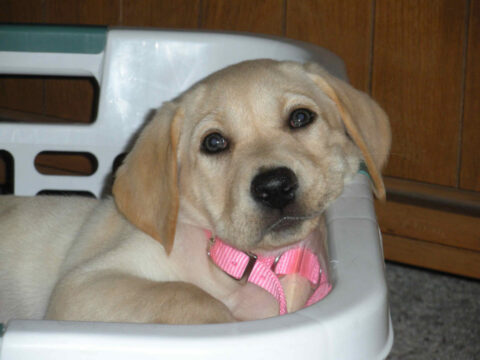 The following puppies come from a bunch of different breeds, but they're all of the "cute & cuddly" variety.
Enjoy the following cute puppy pictures!…
Looks Like He's Up To Something
Tenor, our 2-1/2 month old Black Lab-Great Pyrenees mix, looking quite inquisitive.
Our Previous Pups' Cute Puppy Pics
On the left is my 9-week-old Siberian Husky. On the right is Jim's 8-week-old Lhasa Apso puppy.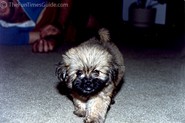 Dapple Dachshund
We've spotted this tiny pup at IHRA drag racing events several times.
Blue-Eyed Baby
These 5-week-old Chocolate Lab puppies are just too, too cute!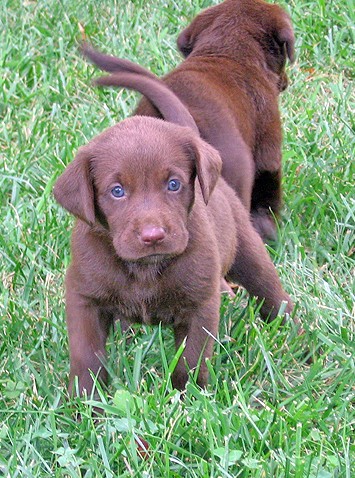 Show Us What You Stand For, American (Eskimo)
Jersey is my American Eskimo, seen here at 3 months of age. He never liked stepping on wet grass or wet pavement… if you can't tell. Yet he always had the most perfect & proud stance.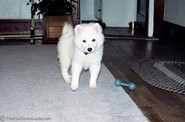 My, What Big Feet You Have!
This Mastiff puppy is only 8 weeks old, yet by the looks of his feet, he's going to be a big 'un!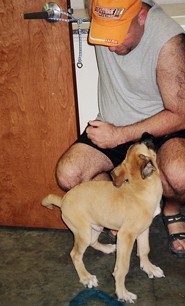 I Love Chocolate …Labs!
An adorable Chocolate Lab puppy at 5 weeks of age.
Twinkle, Twinkle, Little Star
Our friend Rhonda's tiny little Teacup Chihuahuas are always the star of the show everywhere they go. Sassy and Cami are 4 months old.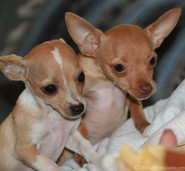 Min Pin With An Attitude
This is Tad and Carrie's min pin, named Nakita. She looks fierce, but she's an angel (…with a lot of bark).
Wet, Dark Chocolate Puppy Pics
This little Chocolate Labrador Retriever puppy just had a swim and was sad that he couldn't get back in the water.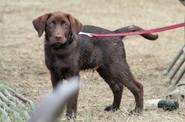 Dachshund Puppy Dog
This is the brother to the dapple doxie puppy pictured above.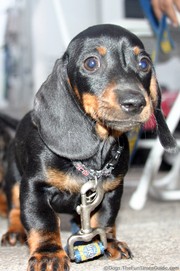 Here's Lookin' At You
A neighbor's dog… a pug with an attitude.
Playful Eskie Cute Puppy Pics
Jersey is a 10-week-old American Eskimo dog who loves dog toys! Just the same, he can entertain himself for hours on end. A very easy dog to care for.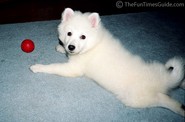 Two Month Old Preciousness
It's slinky, it's slinky! This is one of Tenor's first attempts at going down the stairs — by himself. Tenor is a 2-month-old part Great Pyrenees and Part Black Labrador Retriever dog.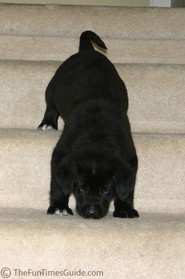 Dancer? Prancer?… Boxer!
A 10-week old boxer puppy we saw at the baseball park. Too, too cute!
Wide-Eyed & Bushy Tailed
Lounging around the backyard… When you're just a puppy, it's important to sit back and take it all in!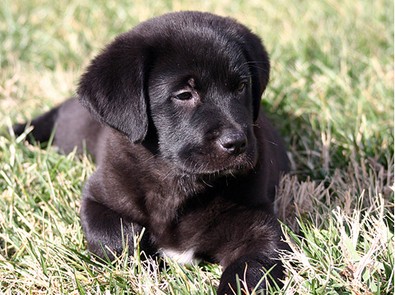 Terrier In Tall Grass
Aerial is the world's sweetest dog. She belongs to our soon-to-be neighbor and visits us every time we visit our log home property.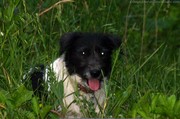 Share your cute puppy pics here.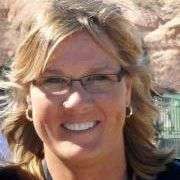 I like to help Dog Parents find unique ways to do things that will save time & money — so I write about "outside the box" Dog Tips and Dog Hacks that most wouldn't think of. I'm a lifelong dog owner — currently have 2 mixed breed Golden Aussies that we found abandoned on the side of the road as puppies. I've always trained my own dogs and help friends train theirs, as well. Professionally, I worked at a vet and have several friends who are veterinarians — whom I consult with regularly. (And just because I love animals so much, I also worked at a Zoo for awhile!) I've been sharing my best ideas with others by blogging full-time since 1998 (the same year that Google started… and before the days of Facebook and YouTube). My daily motivation is to help first-time dog owners be better prepared from the first day your new puppy enters your home. I like to help dog owners understand what's 'normal' and what you can expect in terms of living with and training your dog — how to get through the ups & downs of potty training, chewing, teaching commands, getting your dog to listen, and everything else that takes place during that hectic first year! When I'm not training, walking, grooming, or making homemade treats for my dogs, you will find me at the corner of Good News & Fun Times as publisher of The Fun Times Guide (32 fun & helpful websites). To date, I've written over 600 articles for dog owners on this site! Many of them have upwards of 200K shares.