This post may contain affiliate links. If you buy thru these links, we may earn a commission at no additional cost to you.
---
Following are the strong points and weak points of Teacup Chihuahuas… according to those who love 'em (and some who don't).
As if full-size Chihuahuas weren't already small enough (think Taco Bell dog), there's suddenly a rise in the popularity of the Teacup Chihuahua!
'Regular' Chihuahuas are already recognized as the world's smallest dog breed — weighing in at just 4 to 6 pounds, on average and about 6 to 10 inches in height.
Meet Milly, the world's smallest Chihuahua. She's a miniature Chihuahua that weighs about 1 pound and is only 3.8 inches high.
The Big & Small Of It…
Teacup Chihuahuas are often perceived to be the smallest dogs of all.
But it's important to make this distinction:
Along with 'mini,' 'pocket' and 'tiny toy,' 'teacup' is sometimes used to describe Chihuahuas and other dogs that are very small. These and similar terms are not officially used by any kennel club or reputable breeder, and are not breeds or specific types of Chihuahua. In particular, all Chihuahuas are toy dogs. There is no such thing as a 'toy Chihuahua.' 

– Source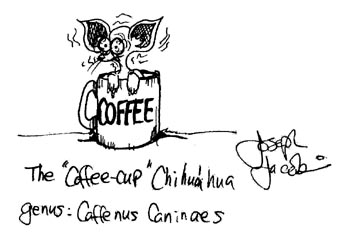 Are Teacup Chihuahuas the smallest of all dogs?…
Probably.
Are Teacup Chihuahuas cute?…
Beauty is in the eye of the beholder.
One thing's for sure:
Teacup Chihuahuas (like most teacup breeds) definitely have their fair share of fans and opponents!
Fans & Owners of Teacup Chihuahuas
Surprisingly, I've had a very hard time finding pro-Teacup Chihuahua sites (or books).
The few that I did find were tied to breeders — whose intentions and breeding history appeared to be questionable.
So, in support of the Teacup Chihuahua owners out there, I offer you this ever-growing collection of adorable Teacup Chihuahua photos on Pinterest.
A Long, Hard Look At The Teacup Chihuahua
Not everyone is crazy about the tiny Teacup Chihuahua.
Here are some examples:
Just so that everyone knows, there is no such thing as a teacup chihuahua. "teacup" chihuahuas are just bred from the runts of the litters of an already tiny dog. chihuahuas are unhealthy enough already because of inbreeding and poor breeding practises designed to make them look the way they do. Buying a teacup chihuahua is encouraging an industry that is cruel to animals. If you want a dog that small, get a hamster.

– Source
Very small dogs, however, are often runts. They are often unhealthy, or undernourished, or, if otherwise healthy, may suffer shortened life spans and health problems later in life due to extreme dwarfing. They are not normally suitable for breeding, and require special care.

– Source
I would encourage you to read the Chihuahua Club of America's interesting statement about Teacup Chihuahuas entitled "The Chihuahua Is A Chihuahua".
To which I would add this…
Generally speaking, there's nothing wrong with falling in love with the runt of the litter. In fact, in my own family we have always chosen the overshadowed or otherwise neglected "runt" of the litter when we hand-picked our last 3 dogs. It was a conscious effort on our part to do so.
I guess the difference lies in the degree to which problems might be inherent in a particular runt or "group of runts" for any given breed. (We've always chosen large breed dogs.)
See why there are so many abandoned chihuahuas and what's happening to them all.
Pros & Cons Of Teacup Chihuahuas
Here's an interesting look at the Chihuahua in general. This might be a useful guide to help you decide whether a Chihuahua (or a Teacup Chihuahua) is right for you:
Chihuahuas… what's good about them & what's bad about them.
Keep in mind, with Teacup Chihuahuas the pros and cons would likely be even more prominent — due to the Teacup's smaller size, and everything that goes along with that.
Here's a veterinarian's take on the teacup breeds.
Chihuahua Dog Size Chart
Check out this canine size chart which specifically addresses the role that a Chihuahua's genetics play in determining its size: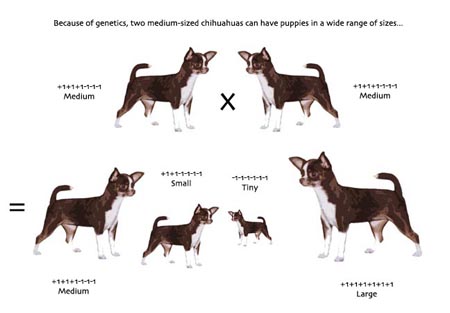 More About The Teacup Chihuahua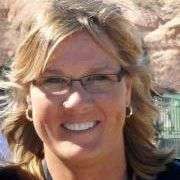 I like to help Dog Parents find unique ways to do things that will save time & money — so I write about "outside the box" Dog Tips and Dog Hacks that most wouldn't think of. I'm a lifelong dog owner — currently have 2 mixed breed Golden Aussies that we found abandoned on the side of the road as puppies. I've always trained my own dogs and help friends train theirs, as well. Professionally, I worked at a vet and have several friends who are veterinarians — whom I consult with regularly. (And just because I love animals so much, I also worked at a Zoo for awhile!) I've been sharing my best ideas with others by blogging full-time since 1998 (the same year that Google started… and before the days of Facebook and YouTube). My daily motivation is to help first-time dog owners be better prepared from the first day your new puppy enters your home. I like to help dog owners understand what's 'normal' and what you can expect in terms of living with and training your dog — how to get through the ups & downs of potty training, chewing, teaching commands, getting your dog to listen, and everything else that takes place during that hectic first year! When I'm not training, walking, grooming, or making homemade treats for my dogs, you will find me at the corner of Good News & Fun Times as publisher of The Fun Times Guide (32 fun & helpful websites). To date, I've written over 600 articles for dog owners on this site! Many of them have upwards of 200K shares.