This post may contain affiliate links. If you buy thru these links, we may earn a commission at no additional cost to you.
---
Stay!
It's one of the most important commands you will ever teach your dog.
A dog that knows how to "stay" is usually a very well-behaved dog. When you ask your dog to stay, you are asking him to stay where he is until you tell him he can go. — PetsTV
"Stay" is one of the commands that could actually save your dog's life — especially during an emergency situation when your dog could run into harm's way unless he's told to "stay" right where he is.
Here's how to teach your dog to "stay"…
Teaching Your Dog To Stay
The way we taught each of our dogs to "stay" is by using a variation of these tips.
This is what worked for us and our 3 dogs:
1. Put your dog in the position that you want him to "stay" in. (Either sit, lie down, or stand.)

2. The exact moment that your dog responds to that request, reward him with a treat and say "Good ___." (Either "sit" or "down" or "stand")

3. Wait 1 second, then say (and motion with the open palm of your hand) "Stay!" then walk a couple steps away and stop. Maintain eye contact with your dog for this entire time.

4.  Wait 1 second, then reward him with a treat and say "Good stay!"

5. Break the training session temporarily by saying "Okay." (This word means that your dog is free to run or do something different. He is no longer "in training" at that moment.)
Wait a few minutes, then repeat the 5 steps again.
Do this up to 5 times in this one location. Because repetition is key.
Each time, gradually increase the distance that you walk away from your dog AND the amount of time that you require your dog to remain in place before saying "Good stay!" and rewarding with a treat.
That's enough for one day.
The next day, pick a different location and go through the same 5 steps.
Do this for 5 days in a row using different locations and varying the distance, duration, and distractions.
TIP: If your dog doesn't stay until you say "Good stay!" just ignore that behavior, don't give a treat, and start over. The idea is to completely ignore any unwanted behaviors and only reward the behavior you're training for.
Examples Of Dogs Learning The Stay Command
This is Jersey, our American Eskimo dog. He is learning the "stay" command.
I'm in the garage (along with a dozen or so other people; we're having a garage sale). Jersey is at the kitchen door that goes into the garage.
He is attempting to "stay" — even though there is somewhere else that he would rather be. Namely, mingling with all of the people at our garage sale.
Jersey did really well, and waited there for us to reward him with a treat and say "Good stay!"
These next videos show 2 different ways to teach the stay command.
For me, the 2 biggest takeaways from these videos are:
How keenly aware the dogs are of their owners' presence (including their tone of voice, eye contact, and hand signals)
How responsive the dogs are to the simple cues provided by their owner (the "stay" command, as well as other verbal and non-verbal cues)
 Here's how to use a clicker to teach your dog to stay.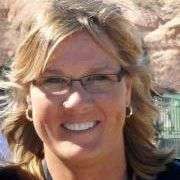 I like to help Dog Parents find unique ways to do things that will save time & money — so I write about "outside the box" Dog Tips and Dog Hacks that most wouldn't think of. I'm a lifelong dog owner — currently have 2 mixed breed Golden Aussies that we found abandoned on the side of the road as puppies. I've always trained my own dogs and help friends train theirs, as well. Professionally, I worked at a vet and have several friends who are veterinarians — whom I consult with regularly. (And just because I love animals so much, I also worked at a Zoo for awhile!) I've been sharing my best ideas with others by blogging full-time since 1998 (the same year that Google started… and before the days of Facebook and YouTube). My daily motivation is to help first-time dog owners be better prepared from the first day your new puppy enters your home. I like to help dog owners understand what's 'normal' and what you can expect in terms of living with and training your dog — how to get through the ups & downs of potty training, chewing, teaching commands, getting your dog to listen, and everything else that takes place during that hectic first year! When I'm not training, walking, grooming, or making homemade treats for my dogs, you will find me at the corner of Good News & Fun Times as publisher of The Fun Times Guide (32 fun & helpful websites). To date, I've written over 600 articles for dog owners on this site! Many of them have upwards of 200K shares.