This post may contain affiliate links. If you buy thru these links, we may earn a commission at no additional cost to you.
---
We use the 'Tell me' command (others refer to is as the 'Speak' command) to encourage our dog to bark in order to get our attention about something.
This is especially helpful when getting your dog used to the idea that he must tell you when he needs to go outside.
An example:
Before our dog goes outside, he's been trained that he must first tell us with a single bark.
If he looks like he wants something, we say, "What?… Tell me."
He will then bark once and walk toward the back door.
From there, he knows that he must sit patiently by the back door before we'll open it and let him outside.
Barking On Command
Some other times that it might be helpful to teach your dog to bark on command:
Your dog can tell you when there's a stranger nearby. (Or in our case, he tells us that the mail has arrived.)
Your dog can tell you when he's hungry. (Yep, our dog does this – once a day, like clockwork.)
Your dog can tell you that the water bowl is empty. (Yep, he does this too.)
Your dog can tell you when he wants to come back in the house. (This is one that our normally non-barking dog just started doing himself.)
How To Teach Your Dog To Speak
While we use the command 'Tell me' with our dog, it's basically the same as teaching your dog to 'Speak'.
Here's how it's done:
1. With your dog seated in front of you. Stare him right in the eyes and say 'Tell me' (or 'Speak') repeatedly until he's so confused about what you want that he barks at you.
2. Immediately give praise & a treat and say, 'Good tell me!' (or 'Good speak!')
3. Then try again… say 'Tell me' (or 'Speak') until your dog barks.
That's it! Give lots of treats & praise for even the smallest steps toward progress.
TIP: Another way to teach your dog to speak is to simply "mark" that behavior at a time when he is doing it on his own. You're simply catching him in the act of doing something that he already does on his on and then assigning a name to it. So, the next time your dog is barking (and you don't mind that he's barking at that time!), immediately say, 'Tell me?' (or 'Speak?') Yes… as a question. Dogs are just as intrigued by questions as people are. To your dog, a question signals that what you are saying is something that he should pay attention to. If he immediately barks again, say 'Good tell me!" (or 'Good speak!') and give praise and a treat. Finally, after he stopped barking for a short period of time, say 'Tell me" (or 'Speak') and give praise & a treat if he barks!
Tell Me What?…
From there, you can begin to associate 'Tell me' (or 'Speak') with a specific action. Tell me what?… Like:
'Need more water' ('Tell me water!')
'Want to go outside' ('Tell me outside!')
'The phone is ringing' (Tell me phone!")
Just call it what you want and use that phrase every single time your dog barks during a moment that you want to reinforce.
So, if you actually want your dog to bark at a particular time — and every time this circumstance arises — then you just say, 'Did you tell me? Are you telling me? Good tell me!' whenever he barks during those times!
Eventually, your dog will learn to differentiate between the good times to bark, and those times you're not so crazy about his barking.
If you ignore the times you don't want him barking, then he will begin to phase those out, because he doesn't get rewarded for them.
But don't forget… you must always give praise and treats whenever your dog barks at the "right" times!
How To Teach Your Dog To Be Quiet: No Bark!
Once it's clear that your dog has a good grasp of what it means to 'Tell me' or 'Speak', then it's time to teach your dog to 'be quiet' on command!
Here are my step-by-step tips to teach your dog to be quiet and stop barking.
How To Teach Your Dog To Whisper
In addition to teaching our dog the command for 'Quiet', we actually took it a step farther and taught him to how to whisper! That is, how to bark softly — because there are times when a loud bark isn't necessary. (Plus, this is another fun dog trick that will impress your friends!)
Technically, it's just a softer bark. But our dog knows it as the command, "Whisper."
Here's how it's done:
1. With your dog seated in front of you. Stare him right in the eyes and say very softly say, "Whisper" repeatedly until he barks (at any decibel level).
2. Immediately give praise & a treat and say, "Good whisper!" (even if your dog's bark was a little loud. At least he'll know that barking is what you're after. Next, you'll begin to work on the volume level of a dog whisper.
3. Now, teach your dog the difference between a bark and a whisper by repeating the steps above, but this time only give praise & a treat when you get a softer/quieter bark than normal.
4. For us, sometimes it works better when we don't say anything at all and just 'mouth' the words "Whisper". (Jim just mouths the word "Woof" quietly.) For some reason, these low-key whispers encourage our dog to whisper back to us.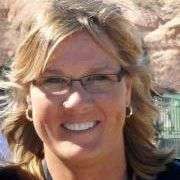 I like to help Dog Parents find unique ways to do things that will save time & money — so I write about "outside the box" Dog Tips and Dog Hacks that most wouldn't think of. I'm a lifelong dog owner — currently have 2 mixed breed Golden Aussies that we found abandoned on the side of the road as puppies. I've always trained my own dogs and help friends train theirs, as well. Professionally, I worked at a vet and have several friends who are veterinarians — whom I consult with regularly. (And just because I love animals so much, I also worked at a Zoo for awhile!) I've been sharing my best ideas with others by blogging full-time since 1998 (the same year that Google started… and before the days of Facebook and YouTube). My daily motivation is to help first-time dog owners be better prepared from the first day your new puppy enters your home. I like to help dog owners understand what's 'normal' and what you can expect in terms of living with and training your dog — how to get through the ups & downs of potty training, chewing, teaching commands, getting your dog to listen, and everything else that takes place during that hectic first year! When I'm not training, walking, grooming, or making homemade treats for my dogs, you will find me at the corner of Good News & Fun Times as publisher of The Fun Times Guide (32 fun & helpful websites). To date, I've written over 600 articles for dog owners on this site! Many of them have upwards of 200K shares.