This post may contain affiliate links. If you buy thru these links, we may earn a commission at no additional cost to you.
---
With eye contact, all things are possible!
Once you've trained your dog to stare at you adoringly whenever you call his name, then ALL forms of training will become much easier.
Here's how I taught my dogs to look at me on cue — which ultimately makes teaching any dog trick or dog training command a cinch!
How To Teach Your Dog His Own Name
While one-on-one eye contact between you and your dog is important for a variety of reasons, the truth is, it makes the process of training your dog to do virtually anything much easier as well.
For example, when my dogs were being trained to "heel", I had to first get them to understand the importance of eye contact.
Here's how I taught my dogs to look at me each and every time I called their name — which then made the process of training them to "heel" (and many other things) much easier.
Here's how to teach your dog his name and to come when called.
With Eye Contact, All Things Are Possible
One thing is certain:
DOGS ARE THINKING ABOUT WHAT THEY ARE LOOKING AT. PERIOD.
If your dog isn't looking at you, then you can bet that he isn't thinking about you or what you want him to do either.
So the very first step is to teach your dog to look at you. No, I mean stare at you — without stopping.
Once you have taught your dog to look at you — on command, both while you are standing still, and when you are moving — then you're ready to try it in the heel position while walking.
Eventually, after several training sessions familiarizing your dog with "eye contact", you will never again need to tug on his collar to get his attention or bring him back to the heel position… EVER!
Here's how you do it…
How To Establish Eye Contact With Your Dog On Command
Before you attempt to teach your dog that "to look at you" is actually a command that must be followed at all times — when indoors… when outdoors… when playing… when eating… and even when walking — you'll want to first teach your dog to give you his full undivided attention when you're in the house and stationary. That is, without any distractions or movement involved.
And would you believe that eye contact is so important that dogs learn to tune out anyone who is not looking at them?
Turning your back — that's a cue all the animals were sensitive to. But when the testers held books, it was only the domestic dogs who avoided the person who appeared to be reading the book. In a house where they're used to people reading books, they are sensitive to those types of cues. A pet dog will not beg from someone reading the book. They will go to the person looking at them. A wolf or a dog at a shelter is indifferent to that cue.  Source
First, Try It Indoors
1. With your dog in front of you, have treats in your left hand. Wait patiently. Then, the instant your dog looks up at your face, TREAT.
2. Then, let a few seconds elapse and wait for him to look at something else…
3. Say your dog's name again, and the second he looks up at your face, TREAT.
4. Repeat this until your dog is instantly looking up at you every single time you say his name.
At first, it may help to hold up the treat between your eyes to get him to focus on your face. However, you don't want to be rewarding him for following your hand from the treat container up to your eyes each time, so only reward for those times that he has looked away (at something other than you or the treats) and then back at you.
Then, Try It Outdoors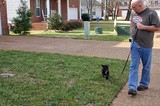 Finally, take it outside — where there will besome minor distractions — and go through steps 1 through 4 again.
Be consistent… each and every time he makes eye contact with you, he must receive a TREAT. Don't expect much in these first few days of training. And don't move around the yard a lot. It's the simply the task of getting your dog to recognize his name and to stare at you adoringly that we're after here. (Training in situations with movement and many distractions comes later.)
Of course, due to the minor distractions that you are likely to encounter outdoors, you will probably have to reward your dog for just milliseconds of eye contact at first when you are outside. Then, gradually to test how much your dog "gets it", you will want to start delaying the point at which you deliver the TREAT. This means, you will call his name, then when he stares at you, simply stare back a few seconds longer before you actually deliver the TREAT.
Name Recognition For Dogs: Best Tips
To summarize: Every time your dog looks at you when you say his name, he gets a TREAT.
As long as you are consistent (always giving a treat each time he looks at you after saying his name) and you always require that he looks at you when you say his name (even months later, after it's clear that he already knows his name), this will teach your dog to always look at you — for the rest of his life — whenever you say his name. You will always have his full, undivided attention.
Repeat the above steps a few times each day for at least a week straight until your dog no longer hesitates.
Be patient. Be consistent. And don't give up. You are training your dog to pay attention to you, and only you,  on command… for life!
REPETITION AND CONSISTENCY ARE YOUR KEYS TO SUCCESS!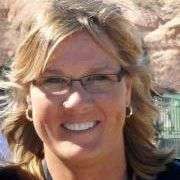 I like to help Dog Parents find unique ways to do things that will save time & money — so I write about "outside the box" Dog Tips and Dog Hacks that most wouldn't think of. I'm a lifelong dog owner — currently have 2 mixed breed Golden Aussies that we found abandoned on the side of the road as puppies. I've always trained my own dogs and help friends train theirs, as well. Professionally, I worked at a vet and have several friends who are veterinarians — whom I consult with regularly. (And just because I love animals so much, I also worked at a Zoo for awhile!) I've been sharing my best ideas with others by blogging full-time since 1998 (the same year that Google started… and before the days of Facebook and YouTube). My daily motivation is to help first-time dog owners be better prepared from the first day your new puppy enters your home. I like to help dog owners understand what's 'normal' and what you can expect in terms of living with and training your dog — how to get through the ups & downs of potty training, chewing, teaching commands, getting your dog to listen, and everything else that takes place during that hectic first year! When I'm not training, walking, grooming, or making homemade treats for my dogs, you will find me at the corner of Good News & Fun Times as publisher of The Fun Times Guide (32 fun & helpful websites). To date, I've written over 600 articles for dog owners on this site! Many of them have upwards of 200K shares.