I like dogs… and I like to laugh…
The following covers both: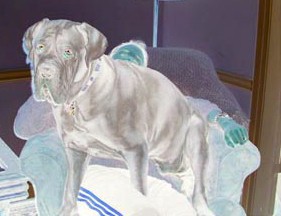 Do yourself a favor… you've GOTTA click on this photo!
It was taken by "habitatgirl", and wait til you she what she says about this 150-lb Neopolitan Mastiff named Max, who weighs "about 150 lbs which is about 20 more than Toby".
Thanks so much for sharing, habitat girl! (…That's one heck of a lap dog!)
Dogs Rule… Presidents Drool

For the dog lovers out there, NBC just ran a one-hour special Dateline NBC segment called "Pet Nation" where Al Roker went into people's houses to document the extent to which people will pamper their pets (especially dogs) these days.
Roker mostly interviewed rich & famous celebrities, but that's what made it all the more hilarious… the degree of pampering seems directly proportionate to one's level of income.
—> Here's a video clip of Roker's visit to the White House to chat with President Bush about the "First Dogs".
,