This post may contain affiliate links. If you buy thru these links, we may earn a commission at no additional cost to you.
---
Jersey was born on July 8, 1991.
His first day home with me was September 21, 1991.
I traveled 3 hours from Lake Placid, New York (where I was living, while working at Paul Smith's College) to a pet store in Albany, NY. I had visited that store a few weeks earlier — which was how I knew they had some puppies that I was interested in.
NOTE: This was the first (and last!) time I ever purchased a dog from a pet store. I'm embarassed to say that I simply didn't know enough about where the pet stores got all their puppies back then. (Now I know that most are from puppy mills.)  At the time, I thought if a dog was "registered" — with papers — then everything was fine. But that's not necessarily true all the time. In my case, I was very lucky. Jersey lived a long and happy life with me — with no health issues!
Jersey is a purebred American Eskimo Dog — also known as a Spitz, or an Eskie. He was born in upstate New York.
He was very calm… and quiet… and carsick!
But he took to his new home right away.
Here are photos of Jersey's first days at home with me…
Jersey's First Day In His New Home: Upstate New York


On September 22, 1991 I found Jersey, a 10-week-old American Eskimo at a pet store in Albany, New York. (Since then, I've changed my tune about pet store adoptions!) Jersey was in a cage by himself, and the store owners said he kept getting passed up, while his brothers and sisters were all adopted weeks earlier. He looked just like a litle white ball of cotton. And to me, the best part was he didn't have those teary eye stains that most white-fur dogs do. His tail had been nipped at by his siblings (and is still scarred to this day), but despite being the runt of the litter, he was very mellow and sweet. I snatched him up in a heartbeat, and we drove 3 hours upstate to my apartment in Lake Placid, New York. Side Note: I'd had an American Eskimo before, but he died at only 6 months of age. I always knew I wanted another one…
Jersey Was Playful From Day One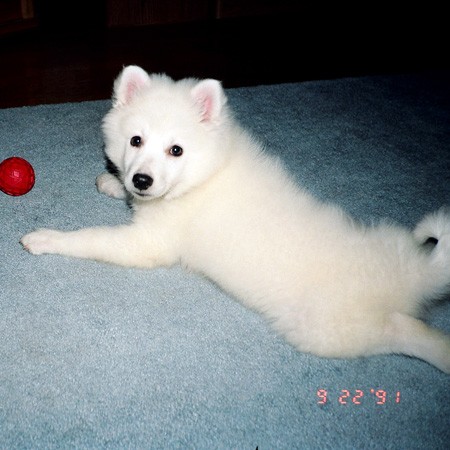 Jersey was a playful pup from the day I first brought him home. He had a handful of toys, and he loved to play with them all. He frequently laid around the house all sprawled out like this.
Ready For The Beach At Any Time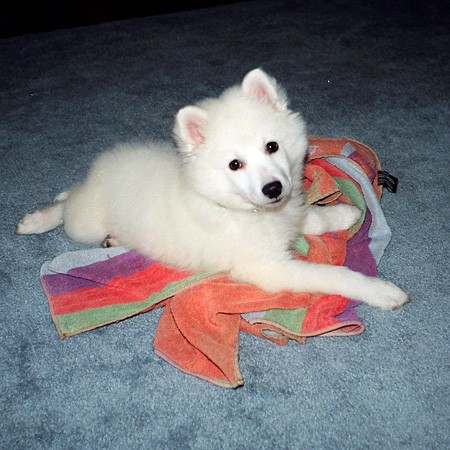 Jersey has always enjoyed almost everything I enjoy… including going to the beach!
Home Sweet Home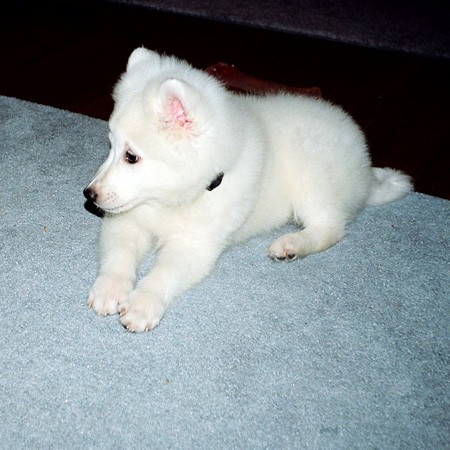 Jersey felt comfortable in his new home right from the start. He was very calm, cool, and collected in his new house. The only problem was when Lynnette went to work for the day, he pretty much barked most of the time (…so the very kind neighbors said).
Jersey Amidst Beautiful Adirondack Fall Foliage


About a month after Jersey arrived, the leaves started to turn in the Adirondacks. Which is one of the highlights of living in Upstate New York. Jersey has always enjoyed the outdoors, playing in the leaves and the snow were popular activities living in Lake Placid.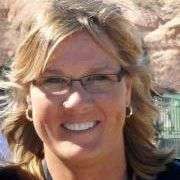 I like to help Dog Parents find unique ways to do things that will save time & money — so I write about "outside the box" Dog Tips and Dog Hacks that most wouldn't think of. I'm a lifelong dog owner — currently have 2 mixed breed Golden Aussies that we found abandoned on the side of the road as puppies. I've always trained my own dogs and help friends train theirs, as well. Professionally, I worked at a vet and have several friends who are veterinarians — whom I consult with regularly. (And just because I love animals so much, I also worked at a Zoo for awhile!) I've been sharing my best ideas with others by blogging full-time since 1998 (the same year that Google started… and before the days of Facebook and YouTube). My daily motivation is to help first-time dog owners be better prepared from the first day your new puppy enters your home. I like to help dog owners understand what's 'normal' and what you can expect in terms of living with and training your dog — how to get through the ups & downs of potty training, chewing, teaching commands, getting your dog to listen, and everything else that takes place during that hectic first year! When I'm not training, walking, grooming, or making homemade treats for my dogs, you will find me at the corner of Good News & Fun Times as publisher of The Fun Times Guide (32 fun & helpful websites). To date, I've written over 600 articles for dog owners on this site! Many of them have upwards of 200K shares.