This post may contain affiliate links. If you buy thru these links, we may earn a commission at no additional cost to you.
---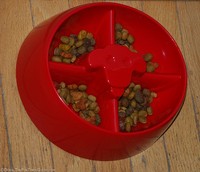 You know it's not healthy for people to eat too fast.
That's also true for dogs.
The same uncomfortable things can happen — like gas, bloating, choking, even vomiting. (There's nothing fun about that!)
If your dog is a gulper, the partitioned dog food bowl by DogPause might be the solution you're looking for.
It's a simple way to get your dog to eat more slowly!
The premise of the DogPause bowl is simple but effective…
Because of the compartments, your dog is forced to eat more slowly and won't swallow as much air when he eats. When he swallows less air, he avoids the uncomfortable and potentially dangerous side effects of inhaling his food — like bloat.
DogPause is first dogbowl with proprietary SlowZones and integrated portion control — which slows down fast eating dogs. Clinical studies show slower eating reduces risk of bloat.
The DogPause bowl is similar to this popular anti-gulping dog bowl on Amazon.
Our Review Of The DogPause Bowl
My girls did a side-by-side test for me last night.
They're getting older and don't eat at the full speed of light anymore, but they don't waste any time, either. (Heaven forbid one finishes before the other and noses in on the slower one.)
They eat the same amount, and they gobble at about the same pace. It's normally a photo finish when they reach the bottom of their bowls. So, I measured the same amounts into a normal bowl for Fluff, while Susie got hers in the DogPause bowl. Then they both went to town.
The DogPause bowl definitely worked as advertised. It took Susie at least twice as long (or more) to get to the bottoms of the 4 compartments. I was honestly surprised — I didn't think the compartments would make that great a difference, but they really did!
The bowl itself is very well made. It's a thick, durable, food-grade plastic, with a fun doggie face in the center. At the current price of $17.95, it's not cheap, but is tough enough to last indefinitely. The wavy "3-legged footstool" design at the bottom keeps it stable on an uneven floor, and makes it easier for you to pick up (to refill or clean).
The absence of a non-skid bottom is intentional — to allow the dog to reposition himself and even slow him down a bit more. In our case, this seemed to be more of a drawback, since we feed a home-cooked rice/meat/veg mix, and it's stickier and harder to get out of the narrow bottoms of the compartments. Poor Susie was chasing that bowl all across the kitchen. I finally held it still for her so she could finish. I'd recommend placing it on a non-skid mat.
If you feed dry kibble, the skidding should be minimal and not a concern. In fact, you can see a side-by-side video comparison of "Hank" eating kibble from his normal bowl and his DogPause bowl here:
DogPause in Action (45 second version, narrated)
Did you notice that Hank's bowl didn't skid too much?
So there you have it… If your dog is eating too fast, slow down the pace with a DogPause bowl!
If a non-skid bottom is important to you, here's one that's similar to the DogPause bowl that works really well.
Here's Another Review From Lynnette

I tried the DogPause bowl with my dog, too.
He's an 80-pound Black Lab, but he's not a real fast eater. In fact, the normally eats in spurts. He'll start with a full bowl at meal time and he'll chow down for a few minutes straight. Then, he takes a long break from eating. Finally, several hours later, he'll come back and eat the rest of what's left in his food bowl.
That's pretty much how it went when I introduced him to the DogPause bowl, as well. He was very interested at first. And he ate about as much as he normally would. Then, he went away for awhile and came back later to finish what was in the bowl.
Since my dog's not really a fast eater, feeding him from this compartmentalized bowl was a fun way to switch things up and make meal time more interesting. It was a nice change of pace.
Here's a fun tip!…
The first time he ate out of it, I think he thought he'd find something different in each compartment. So, the second time I fed him using the DogPause bowl… I did put different types of kibble in each compartment. He seemed to enjoy it. I think it was kind of a fun game for him!
As for me, I especially like how sturdy and durable the bowl itself is. And I like the "wavy" bottom which makes it easy to pick up and refill.
The Bottom Line…
So I guess Lynnette's review, combined with mine, proves that the DogPause bowl works well for dogs that tend to eat really quickly — as well as those that don't.
It's definitely a dog-friendly food bowl, that's for sure!
DogPause was the first dog bowl with integrated portion control to slow down fast eating dogs.
There are many other types of dog food puzzles and slow feed dog bowls also available these days.
UPDATE:
I got an email from the folks at DogPause…
I just wanted to send you a quick email and give you an advance heads-up about the latest addition to our product line. It's a matching water bowl, which we decided to add largely based on the feedback from the blogosphere. We carry it in both red and blue.
Our current dog family consists of 2 Beagle-mix sisters, Susie and Fluffy. Over the last 35 years I've had anywhere from 1 to 6 dogs at a time, so I definitely have tons of dog and puppy stories to share! By the way, our dogs are going on 2 years straight with absolutely NO commercial pet food or dog treats. I like to make my own food and treats for my dogs.