---
In writing about our personal experiences, we sometimes mention products & services that we use or recommend. This page may contain affiliate links for which we receive a commission.
Deanna asked:
Hey, do you know how to do the trick 'treat on nose' if so tell me?!
We've taught each of our dogs to do this fun trick.
Here's how we did it…
Like most dog tricks, the younger your dog is when you start teaching this trick, the better.
Nevertheless, a dog of any age can learn this trick after just a few lessons.
Some people teach their dogs to do this while the dog is seated. Others find it easier to get the dog to cooperate when the dog is lying down. Either way works okay, but we've had better luck while the dog is sitting.
How To Do The 'Balance On The Nose' Trick:
#1
Have your dog in the "sit" or "lie down" position, and make sure that his attention is fully on you.
#2 Place a very small piece of your dog's favorite dog treat on the middle (flat part) of his nose.
#3 IMMEDIATELY say, "OK!" and let him get the treat. Then, IMMEDIATELY give lots of praise… a crazy amount of praise is required here!
Why? Because to your dog, it will feel weird to have something sitting on top of his nose, so he'll ignore whatever you say and get the treat anyway. Saying "OK!" shows that's exactly what you wanted to happen, and he was following your orders! And the overly enthusiastic praise shows your dog he did the right thing.
#4 Afterwards, give your dog a separate treat — as a reward for getting the treat from his nose, on command.
#5 Do steps 1 thru 4 over and over again, several times in a row. The most important thing: Each time you do it, increase the amount of time between when you put the treat on your dog's nose and when you say "OK!".
The tricky part is being able to tell the millisecond before your dog will just get it on his own — out of irritation if nothing else. The longer you can increase the time before saying "OK!", the more your dog is "getting it".
Some Tips…
Your dog's own attention span will determine how many times in a row you try this in one sitting.
For some dogs, it will only take a couple of times before they realize what you're asking and what they're doing. Other dogs may tire of this "game" — in which case, you should stop the training and come back to it several hours later.
The most important thing is to keep practicing steps 1 thru 4 two or three times a day, and for several days in a row.
Never reprimand, or act discouraged when/if your dog does it "wrong". Every little itty bitty ounce of improvement is worth a billion times more praise and enthusiasm each time.
…It worked for us.
Here are videos showing this dog trick in action!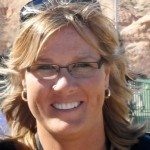 I like to help Dog Parents find unique ways to do things that will save time & money — so I write about "outside the box" Dog Tips and Dog Hacks that most wouldn't think of. I'm a lifelong dog owner — currently have 2 mixed breed Golden Aussies that we found abandoned on the side of the road as puppies. I've always trained my own dogs and help friends train theirs, as well. Professionally, I worked at a vet and have several friends who are veterinarians — whom I consult with regularly. (And just because I love animals so much, I also worked at a Zoo for awhile!) I've been sharing my best ideas with others by blogging full-time since 1998 (the same year that Google started… and before the days of Facebook and YouTube). My daily motivation is to help first-time dog owners be better prepared from the first day your new puppy enters your home. I like to help dog owners understand what's 'normal' and what you can expect in terms of living with and training your dog — how to get through the ups & downs of potty training, chewing, teaching commands, getting your dog to listen, and everything else that takes place during that hectic first year! When I'm not training, walking, grooming, or making homemade treats for my dogs, you will find me at the corner of Good News & Fun Times as publisher of The Fun Times Guide (32 fun & helpful websites). To date, I've written over 500 articles for dog owners on this site! Many of them have upwards of 200K shares.