This post may contain affiliate links. If you buy thru these links, we may earn a commission at no additional cost to you.
---
It's been a running joke among those who know us…
Our dog, Tenor, uses this one huge stuffed animal as a "pacifier." No joke. 
Whenever he's stressed, anxious, or even happily excited, he sprints to find his dolphin toy. And it legitimately seems to calm him.
He just holds it squarely in his mouth, while wagging his tail rapidly and blinking his eyes — watching us closely to gauge our next move and how that move will (or will not) involve him.
It's the sweetest thing!
But it gets even funnier:
This dolphin is 2 to 3 times larger than most stuffed dog toys.  
It has actually been passed down from three (3) dogs now.
It's nearly 20 years old! (A college boyfriend won it for me at the State Fair.)
It's missing both eyes, and the stuffing seaps out of those spaces on a regular basis. I just keep stuffing it back in.
None of our 3 dogs ever chewed on this dolphin as if to destroy it. They each simply carried it around. So the body itself is still in good shape.
No matter how many times I wash it, it manages to stay in one piece! (…although it has become badly stained in the one area where the dogs' mouths have latched on to it.)
The Stuffed Dog Toy "Switcheroo"
So… Tenor has had this dolphin stuffed dog toy since he first entered our home as a puppy. He's now 5 years old.
We were recently in the Florida Keys on vacation. When I spotted a very similar stuffed dolphin for sale in a gift shop, I just had to get it! 
I was mostly eager to see if Tenor would take to it. And secondly, I was looking forward to getting rid of that old stained dolphin (…if this little switcheroo experiment worked). 
Call me a hoarder, because I've decided not to toss the old cruddy dolphin. And you can call my dog one that doesn't play favorites, because he still shows a fondness for both dolphins.
Yep, both stuffed dog toys still have a spot in our home to this day. And this is from a dog that does NOT play with dog toys! Just tennis balls, that's it.
As it turned out, since the "old" dolphin was on this trip to The Keys with us (as was the dog — we were spending a week in a motorhome), the moment I introduced the "new" dolphin to him, Tenor took right to it. But he still picked up his old one at times. (And I wasn't gonna toss it on vacation, where 90% of things were strange or new to him.)
So when we got home, I tried the same experiment… I left both dolphins on the floor and waited to see which one he gravitated to. The result: BOTH! It's as if he likes to keep one upstairs and one downstairs. Or one near the door and one near his bed.
I know, I know. I'm WAY over-analyzing this. Trust me, I get it. It's just a stupid stuffed toy! But you've got to admit, sometimes dog behaviors seem really interesting — especially when it's your dog and you're not sure if other dogs behave the same way not.

What Do You Say?…
Does your dog behave similarly with one particular toy?
Does your dog have a "pacifier" — one specific toy that seems to calm him differently than others?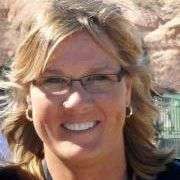 I like to help Dog Parents find unique ways to do things that will save time & money — so I write about "outside the box" Dog Tips and Dog Hacks that most wouldn't think of. I'm a lifelong dog owner — currently have 2 mixed breed Golden Aussies that we found abandoned on the side of the road as puppies. I've always trained my own dogs and help friends train theirs, as well. Professionally, I worked at a vet and have several friends who are veterinarians — whom I consult with regularly. (And just because I love animals so much, I also worked at a Zoo for awhile!) I've been sharing my best ideas with others by blogging full-time since 1998 (the same year that Google started… and before the days of Facebook and YouTube). My daily motivation is to help first-time dog owners be better prepared from the first day your new puppy enters your home. I like to help dog owners understand what's 'normal' and what you can expect in terms of living with and training your dog — how to get through the ups & downs of potty training, chewing, teaching commands, getting your dog to listen, and everything else that takes place during that hectic first year! When I'm not training, walking, grooming, or making homemade treats for my dogs, you will find me at the corner of Good News & Fun Times as publisher of The Fun Times Guide (32 fun & helpful websites). To date, I've written over 600 articles for dog owners on this site! Many of them have upwards of 200K shares.