This post may contain affiliate links. If you buy thru these links, we may earn a commission at no additional cost to you.
---
Who knew when I was doing some spring cleaning a few weeks ago, that I would get a four-legged visitor who made himself at home in our garage?
Dear 'ol Wallace is Johnny Reid's beloved dog.
And boy, has he got some stories to tell!
By the way, I'll have to get Johnny to fill me in on more of the details first, but remind me to tell you about the day that Wallace saved Johnny from a burning building. I remember Johnny saying it was back before he was married, and something about the dog dragging him to safety. (Not sure how much of that might be embellished. More later.)
So while I was cleaning out the garage (and since I'm such a dog lover), I felt compelled to snap a few pictures of Wallace enjoying some shade and icy cool floors on one very hot day in Nashville, Tennessee.
Enjoy!
Notice how I had to sweep around him? Once he found his spot on the cool cement floor, Wallace wasn't budging!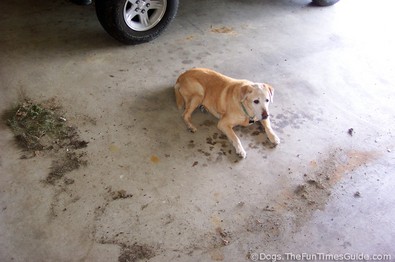 Wallace is quite old, and he's starting to show his age a bit.
A sweet old man… that's what he is.
(Here, his top lip is positioned funny… I think I woke him up!)
I thought maybe he was thirsty… so I got him a bowl of water. Nope. He hardly drank any. I think he just wanted to hang out on the cool floor of our garage.
Ahhh… I found the secret. Dog treats! Wallace remained in my garage (I didn't close the door in case he wanted to go home) for hours on this day. I'd check on him every hour or so & toss him a few dog treats…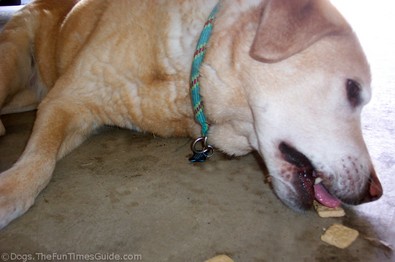 Now, why is this dog so famous, you ask? Because not only is he Johnny Reid's dog, he is also featured in the liner notes on Johnny's newest CD called "Kicking Stones"…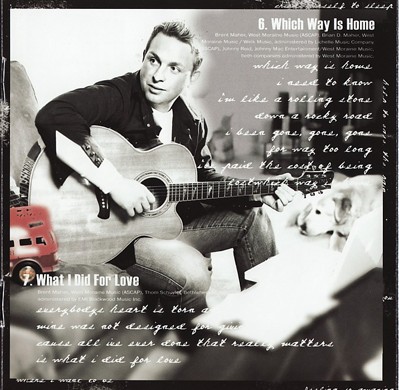 Johnny Reid is looking a little like James Dean in this photo, but Wallace is just bein' Wallace!
UPDATE:
The song "My Old Friend," which appears on Johnny Reid's Dance With Me album, is a tribute to Wallace the dog. This is what he says on his blog about the song he wrote for Wallace:
This song was written the day I had to say goodbye to "My Old Friend" Wallace. I was given 7 minutes to relive 14 years, this proved to be impossible, as I watched and felt him go to sleep for the last time, I held him in my arms. I continued to hold him and tell him how much he meant to me. I drove home alone and with a broken heart went straight to my music room and wrote this song … His love and friendship will live forever in my heart. His song is not a song of sadness but a song of celebration for the life and all the time we spent together. — Johnny Reid
And later, during an interview:
I just lost a dear friend of mine 15 months ago … I got him when he was a puppy. He was my best mate, and I lost him, so I wrote a song called My Old Friend. I'd have to be a fool to believe I'm the only one who feels the way I feel about things sometimes. I think that's what really connects me to the rest of the country. — Johnny Reid
In another interview, he talks about his 14 years with Wallace:
Reid prefers to write honest, straightforward songs from a personal point of view. He said he has sometimes hidden the true meaning of his songs lyrically, but that "people draw from music what they want." He cites his song My Old Friend as an example. "You would think I'm talking about some guy I used to know. That song's actually about my dog that I lost." Wallace was a yellow lab named for Scottish resistance fighter Sir William Wallace, the character played by Mel Gibson in the movie Braveheart. The dog appeared in a photo included in the sleeve for Reid's Kickin' Stones album and had been with the songwriter since his university days. "He was my best friend, and when I lost him, it killed me." After driving home alone from the veterinarian's office, he said, "I picked up my guitar and wrote that song … in probably 15 minutes." Though at first he didn't want anyone to hear the song, Reid decided to release it "because people might find a wee bit of comfort in that song and people would never know what that song was about." Source
In this video, Johnny Reid describes his special relationship with his dog Wallace before he sings My Old Friend in front of a live audience:
Johnny Reid - "My Old Friend" - Moncton, New Brunswick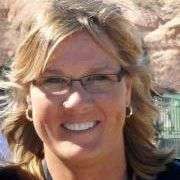 I like to help Dog Parents find unique ways to do things that will save time & money — so I write about "outside the box" Dog Tips and Dog Hacks that most wouldn't think of. I'm a lifelong dog owner — currently have 2 mixed breed Golden Aussies that we found abandoned on the side of the road as puppies. I've always trained my own dogs and help friends train theirs, as well. Professionally, I worked at a vet and have several friends who are veterinarians — whom I consult with regularly. (And just because I love animals so much, I also worked at a Zoo for awhile!) I've been sharing my best ideas with others by blogging full-time since 1998 (the same year that Google started… and before the days of Facebook and YouTube). My daily motivation is to help first-time dog owners be better prepared from the first day your new puppy enters your home. I like to help dog owners understand what's 'normal' and what you can expect in terms of living with and training your dog — how to get through the ups & downs of potty training, chewing, teaching commands, getting your dog to listen, and everything else that takes place during that hectic first year! When I'm not training, walking, grooming, or making homemade treats for my dogs, you will find me at the corner of Good News & Fun Times as publisher of The Fun Times Guide (32 fun & helpful websites). To date, I've written over 600 articles for dog owners on this site! Many of them have upwards of 200K shares.