---
In writing about our personal experiences, we sometimes mention products or services that we use or recommend. This page may contain affiliate links for which we receive a commission.
The following funny dog pictures represent some downright serious determination on the part of our four-legged friends.
In each photograph, it's as if the dog is saying, "I'm not giving up this toy… no matter what!"
See for yourself…
Toys Make Great Pillows
This is Tenor.
He's fast asleep with his foot in the dog food bowl… while resting his head on his favorite toy (for the day, anyway!).
It's a stuffed duck.
A Dog Has His Priorities
Tenor is part Great Pyrenees – part Labrador Retriever. For some reason, he always has to have something in his mouth (held every so gently, of course). It must be the Retriever in him.
Proof: Size Doesn't Matter
This is evidence that two male dogs with dominant tendencies can get along. Little Tenor shows no fear of Destin's big jaws. These two run and chase each other all the time — usually with even smaller toys partly in one dog's mouth, and partly in the other's.
Safe At Last
Can a dog get a little privacy around here??? This is Tenor who likes a little peace and quiet sometimes. He can barely fit under the bed at this point. The best part: the bigger dog, Destin, can't bother him under here!
Quit Hogging The Ball!
Tenor likes football… Can you tell? And he doesn't want anyone playing with his football while he's taking a nap! On the left, I've clearly just woken him up — asleep in the kitchen. On the right, he's still in la-la land and not quite ready to get up yet.
Mine, All Mine
Tenor's got dibs on every ball in the yard — including these two footballs. More proof that football is Tenor's favorite sport.
You Can't Get Me
Tenor hiding with his favorite football under the steps. He knows its hard for our bigger dog to get him under there, and nearly impossible for us to reach him as well.
One Sly Dog
What?… You mean I wasn't supposed to find this new dog toy in the closet? Too late… it's mine now!
Tuckered Out, But Still Determined
This is Tenor after an hour or so of "working" his Kong toy. His jaws ache, his tongue is sore, and he's plum tired. But he's still not about to give up his favorite Kong toy!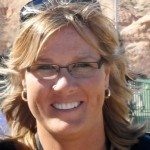 I like to help Dog Parents find unique ways to do things that will save time & money — so I write about "outside the box" Dog Tips and Dog Hacks that most wouldn't think of. I'm a lifelong dog owner — currently have 2 mixed breed Golden Aussies that we found abandoned on the side of the road as puppies. I've always trained my own dogs and help friends train theirs, as well. Professionally, I worked at a vet and have several friends who are veterinarians — whom I consult with regularly. (And just because I love animals so much, I also worked at a Zoo for awhile!) I've been sharing my best ideas with others by blogging full-time since 1998 (the same year that Google started… and before the days of Facebook and YouTube). My daily motivation is to help first-time dog owners be better prepared from the first day your new puppy enters your home. I like to help dog owners understand what's 'normal' and what you can expect in terms of living with and training your dog — how to get through the ups & downs of potty training, chewing, teaching commands, getting your dog to listen, and everything else that takes place during that hectic first year! When I'm not training, walking, grooming, or making homemade treats for my dogs, you will find me at the corner of Good News & Fun Times as publisher of The Fun Times Guide (32 fun & helpful websites). To date, I've written over 500 articles for dog owners on this site!