This post may contain affiliate links. If you buy thru these links, we may earn a commission at no additional cost to you.
---
Some say that the best dog toy in the world is a tennis ball — period. Others think Kong toys are best — for their multitude of uses. I have a hard time arguing against either of those. And I have plenty of each of them in my house right now.
However, after many years… and many dogs… and trying and acquiring many different types of dog toys… if I were asked what the best dog balls are, I'd say that I have 5 favorites (and I talk about all 5 in this post).
But without a doubt, my dogs' all-time #1 favorite is the Splash Bomb ball!
Most people aren't familiar with Splash Bombs by name, but I bet that you or someone in your family has played with them before!
It was by accident that I learned they were the best (also cheapest and longest lasting) dog toy for our dogs to play with…
Our First Splash Bomb
I actually found our very first Splash Bomb.
We went to the water park one day and as we were leaving, there was an old beat-up Splash Bomb on the sidewalk.
I picked it up, thinking "My dog likes balls! This will be a nice surprise gift for him. And a freebie at that."
Ever since then, Splash Bombs have been the dog ball of choice around our house. Even though very few dog owners seem to be aware of them.
What Splash Bombs Are Like
The biggest thing about Splash Bombs is they're kind of squishy — much like a stress ball that we humans use to relieve stress and tension at our work desks. But Splash Bombs aren't nearly as rigid; they have much more give to them. (It's actually a piece of memory foam inside.)
Which is exactly why my dog likes them so much. He likes things that squish and then come back to life. Splash Bombs do just that!
Another key feature of Splash Bombs is the fact that they are made for water play, which means they hold up well to a dog's slobber! (They're actually pool toys, also known as "soak and fling water bomb splash balls".)
My dog tends to squish it. Mouth it a bit. Then watch it pop back out to full-size. Then he'll squish it some more. Then paw at it until it goes rolling across the floor. At which point, he'll chase it and try to get it to "play" with him some more.
Hours of fun for a dog… trust me.
They Last A LONG Time
Eventually, that first Splash Bomb got a hole in the outside cloth layer. (It's foam inside and cloth material outside.)
The little hole got bigger, and I didn't want the dog eating the foam itself. So I tossed our dog's beloved Splash Bomb into the trash.
That old Splash Bomb we originally found at the water park lasted in our home for about 2 years — and that was with my dog playing with it a few times each week, regularly.
We Will Never Be Without Splash Bombs Again!
It was about a year later when I saw Splash Bombs at Walmart (at the start of Summer). I immediately grabbed a 2-pack and brought them home to see if my dog enjoyed these. (They were a little bit larger than the hacky-sack sized Splash Bomb we initially found.) He did! It was like a long lost friend to him.
So I went back to Walmart and bought five (yes 5) more 2-packs! This is pretty much a lifetime supply of Splash Bombs for our only dog right now, named Tenor.
As an aside, I included 2 new Splash Bombs in this year's holiday care package for U.S. soldiers. (Adult kids love 'em too!)
UPDATE:
It has been 12 years since I originally wrote this post.
Would you believe that I still have 5 of those original Splash Bombs that have not even been opened yet?!
Remember, I bought a 2-pack first. Then I went back and bought 5 more 2-packs — all on the same day. And literally, the 7th one from my pack of 12 has been enjoyed by our 4 most recent dogs. And it's still being played with to this day.
Currently, it's my two 3-year-old pups that go crazy every time I bring out a Splash Bomb for a game of indoor fetch.
So yeah, every single dog I've had since Tenor has thoroughly loved playing with Splash Bombs! And I'm sure your dog will, too.
Oh Yeah, The Other Dog Balls We Like?…
I wholeheartedly agree with my dogs' #1 pick and think that Splash Bombs are some of the best dog balls. I have a few others that I like — each for a different reason — that are also worth mentioning:
It's SUPER bouncy and SUPER indestructible! My dogs love the feel of it when they're gnawing down hard on it with their teeth — but it doesn't scratch, chip, or dent. It looks just like it did on the first day we got it! (We have the medium one, that's only 2-1/2 inches in diameter. At first, I was afraid it was too small and they'd choke on it, but it's the perfect size for my 50 lb. pups.)
This Kong tennis ball squeaks. But it's large enough that my dogs can't fit it entirely inside their mouth enough to make it squeak on their own. That's a plus for me — because I know they can't choke on this tennis ball… or bite it to death.
If you're looking for a dog ball that doesn't require your interaction at the same time, look no further than the Wicked Ball. It's a self-moving, light-up ball that turns itself ON and OFF to keep your dog from getting bored throughout the day!
This one dispenses dog treats as your dog rolls it on the floor. All of my dogs have always enjoyed this treat toy. We have 2 of the large ones (that they use as adult dogs) and 1 small one (that they used as puppies). I just put my dog's regular kibble inside. They keep rollin' it and rollin' it until every last morsel falls out.
If you found this post helpful, it would mean the world to me if you would share it with others on Pinterest: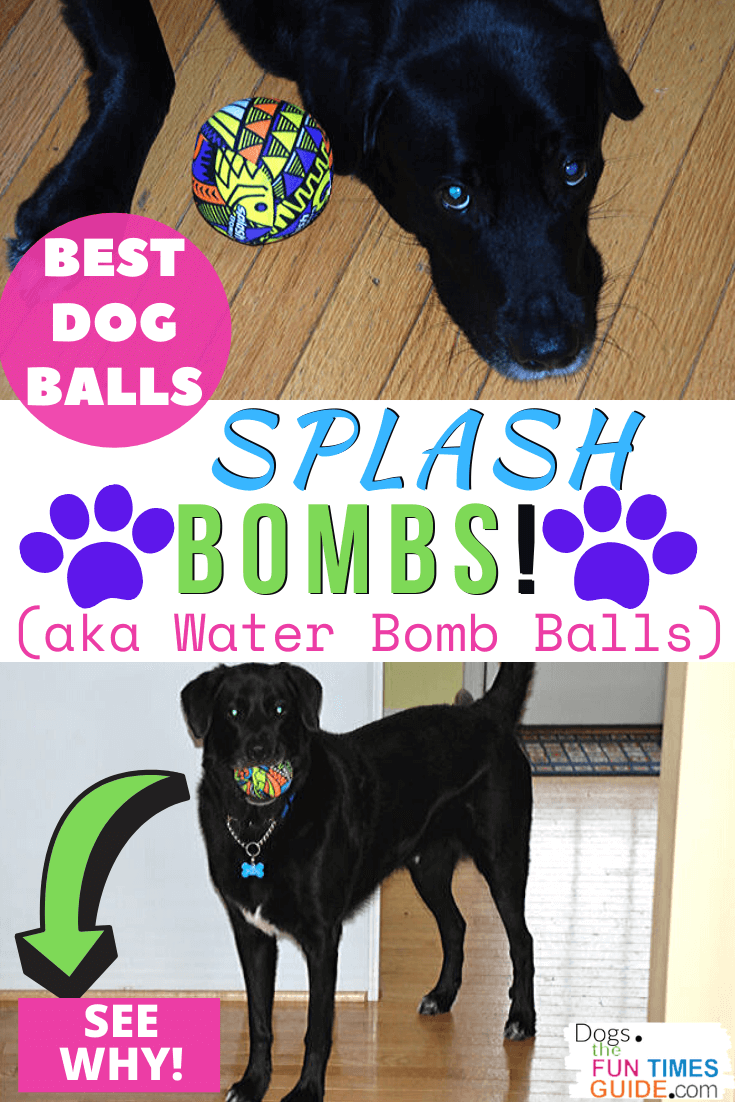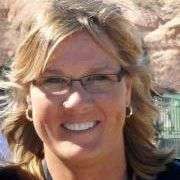 I like to help Dog Parents find unique ways to do things that will save time & money — so I write about "outside the box" Dog Tips and Dog Hacks that most wouldn't think of. I'm a lifelong dog owner — currently have 2 mixed breed Golden Aussies that we found abandoned on the side of the road as puppies. I've always trained my own dogs and help friends train theirs, as well. Professionally, I worked at a vet and have several friends who are veterinarians — whom I consult with regularly. (And just because I love animals so much, I also worked at a Zoo for awhile!) I've been sharing my best ideas with others by blogging full-time since 1998 (the same year that Google started… and before the days of Facebook and YouTube). My daily motivation is to help first-time dog owners be better prepared from the first day your new puppy enters your home. I like to help dog owners understand what's 'normal' and what you can expect in terms of living with and training your dog — how to get through the ups & downs of potty training, chewing, teaching commands, getting your dog to listen, and everything else that takes place during that hectic first year! When I'm not training, walking, grooming, or making homemade treats for my dogs, you will find me at the corner of Good News & Fun Times as publisher of The Fun Times Guide (32 fun & helpful websites). To date, I've written over 600 articles for dog owners on this site! Many of them have upwards of 200K shares.