This post may contain affiliate links. If you buy thru these links, we may earn a commission at no additional cost to you.
---
A few years ago, I got a Wicked Ball for my dogs from a company called Cheerble.
It was the very first version of their "smart" dog ball with random lights and movements that this company made.
Both of my dogs loved it! Here's my review of the original Wicked Ball.
No other dog ball automatically rolls and moves on its own to encourage your dog to interact with it. The automatic moving and rolling features remind your dog that the Wicked Ball is there and waiting to be played with!
Recently, the folks at Cheerble asked me if I'd be interested in reviewing the new, updated version of their interactive dog ball. (They sent me the Wicked Ball SE for smaller dogs. I wish they had sent me the Wicked Ball PE for larger dogs.)
---
Following is my review of the newest Wicked Ball for dogs, the pros & cons, and what makes it better (or different) from the original one.
New Wicked Ball vs. Original Wicked Ball
The newest version of the Cheerble Wicked Ball:
Has 3 customizable interaction modes. This allows you to match the play modes with your dog's unique preferences: passive, normal, or gentle.
Is softer. It's made entirely from a natural rubber material that is also safe for dogs' teeth. The original Wicked Ball was made from a hard, yet durable plastic. (Thermoplastic Polyurethane — a category of plastic that many cell phone cases are made of these days.)
Is waterproof. For the most part, that means you can easily wash dog slobber and dirt from it. But I don't think I'd use it in a swimming pool or lake.
Has easier-to-access controls. Now, it's much quicker to charge and power-ON this interactive dog ball than it was before.
Pros & Cons Of The New Wicked Ball Dog Toy
The absolute coolest feature of the Wicked Ball (both versions) is the totally random movement that it makes… on its own!
As soon as you turn on this ball, it will automatically move, shake, or bounce in an unpredictable manner, and the built-in LED lights will change colors unpredictably as well. At times, the Wicked Ball dog toy will sit quietly for awhile — and then it will magically light up and start moving again! (Technically, you get 10 minutes of active play before it goes into rest mode for 30 minutes. Then you — or your dog — simply have to touch it to wake it up again.)
The new Wicked Ball is much easier to power on than the original Wicked Ball. You simply push in (hard!) the soft white portion of the ball's exterior to power it on. With the original Wicked Ball, you had to "open" the ball first by unscrewing the two halves of the ball to access the power button.
The new Wicked Ball is easier to charge than the original Wicked Ball. First of all, you don't have to unscrew the ball to get to the "brains" of the ball and access the USB charging port. Also, the newer version of the Wicked Ball for dogs is charged by using a regular wall charger instead of a USB cord. You simply push the headphone jack type of end into the middle of the ball itself — without having to unscrew anything.
The new Wicked Ball lasts longer in between charges. The original Wicked Ball needed to be charged much more frequently, whereas this one lasts long enough for several hours of play in between charges! (Technically, they say that 1 hour of charge time gives you 4 hours of play time — but I think it's even longer than that.)
The new Wicked Ball bounces better. Since the original Wicked Ball was made from a hard plastic material, I was always afraid it was going to crack if I or the dogs bounced it too hard. (Yes, even on carpeted floors.) This one rolls and bounces smoothly.
The new Wicked Ball is quieter when it rolls on hardwood floors and tile — especially as it's bouncing across surfaces.
The new Wicked Ball feels more like a ball that's fun to play with than the original version did. My dogs can actually get their teeth on this ball enough to pick it up, grab it in their mouth, and carry it to another location. The original version was larger and hard plastic — so my dogs could only push it or paw at it, but they couldn't easily grab it with their teeth.
Wicked Dog Toy Ball Size Matters
The new Wicked Ball comes in 2 different sizes. The Wicked Ball SE is smaller than the original one. The Wicked Ball PE is larger than the original one.
For comparison's sake:
A standard tennis ball is 2.5 inches in diameter
The original Wicked Ball is 3 inches in diameter (and 0.55 lb) — for large dogs
The Wicked Ball SE is 2.2 inches in diameter (and 0.23 lb) — for small to medium size dogs
The Wicked Ball PE is 3.08 inches in diameter (and 0.52 lb) — for medium to large size dogs
Since my dogs are of the medium- to large-size, I tend to choose larger-sized balls that my dogs can't possibly choke on.
FOR EXAMPLE: A standard tennis ball is too small for most medium- and large-size dogs to safely play with alone — or even to safely "catch" inside their mouth. That's why I buy the larger sized tennis balls with squeakers in them from Kong. At 3 inches in diameter, my dogs can't even come close to choking on them! (By the way, they also have XL size tennis balls for extra-large sized dogs.)
Unfortunately, the Wicked Ball SE that I received is too small for me to safely leave out for my 50-lb dogs to play with when I'm not home — because it easily fits inside their mouth. But it would be a safe option for a smaller dog with a smaller mouth.
Supervised, it's a fun toy to watch my dogs play with. But to prevent boredom and keep my dogs from going stir-crazy while I'm gone, I prefer the original Wicked Ball because of its larger size (or the Wicked Ball PE). But again, if you have a small dog (not a medium-sized dog), the Wicked Ball SE would be great for them.
The Cheerble company recommends that dogs weighing less than 35lbs are best suited for the Wicked Ball SE, and dogs weighing more than 35lbs are best suited for the Wicked Ball PE.
Color Matters: Blue vs. Orange Wicked Balls
If you're considering getting your dog a Wicked Ball SE, your only decision is whether you should get your dog a blue one or an orange one.
If you're thinking the color doesn't really matter… well, you're wrong.
Based on a wealth of research on dog eyesight, it's been proven that dogs can see the color blue better than they can see the color orange.
Therefore, your dog will likely play more actively (and longer!) with the blue one.
We have the blue Wicked Ball SE, as seen in these pictures.
By the way, the color choices for the Wicked Ball PE are mint green and lavender purple.
The Bottom Line
The absolute best thing about the Cheerble Wicked Ball is the fact that it's possible for your dog to play with this toy independently (for hours!) without the need for a human to re-start it. This is true of both versions — the newest SE and PE models and the original.
My biggest piece of advice is get the right sized Wicked Ball for your dog's mouth. You don't want to leave your dog alone with any toy ball that can fit entirely inside of your dog's mouth.
I like how this company is leading the way by creating newer and better "smart pet products" — year after year.
I always try to keep on top of the pet toys they release — because I trust the durability, the safety, and the unique characteristics that the folks at Cheerble build into their dog toys. I think they truly are making the best "smart" pet products!
The Wicked Ball's built-in obstacle avoidance sensor is just one example of this. The ball rolls in random directions on its own, and whenever it hits a wall, furniture, or other obstacles… it moves away on its own. Add to this the toy's dog-durability and clever movements, and you've got one heck of a unique dog toy!
Perhaps the biggest downside to deciding whether to buy a new Wicked Ball or not is the price. It costs 2 to 3 times more than other types of interactive dog toys. But it has SO many more features than other interactive dog toys — and TONS more features than most toy balls for dogs. Trust me… being a "tech" person who often buys the latest and greatest gadgets for myself, it's expensive to put such high-tech features into a dog toy.
I attribute the relatively high cost of this "smart" dog toy to the fact that Cheerble is a very small company with a relatively small team of pet enthusiasts at the helm. They've been able to grow as a company relatively quickly thanks to crowd-funding from pet parents who appreciate what Cheerble has done (and continues to do) in the "smart" dog toy industry.
TIP: If you're buying the Wicked Ball online, look for huge discount coupons on Amazon! To use an Amazon coupon, you just have to "check the box" before adding the item to your cart to "save an extra 20%" or "save an extra 30%" on the new Wicked Ball.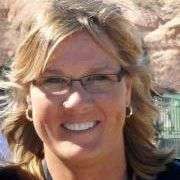 I like to help Dog Parents find unique ways to do things that will save time & money — so I write about "outside the box" Dog Tips and Dog Hacks that most wouldn't think of. I'm a lifelong dog owner — currently have 2 mixed breed Golden Aussies that we found abandoned on the side of the road as puppies. I've always trained my own dogs and help friends train theirs, as well. Professionally, I worked at a vet and have several friends who are veterinarians — whom I consult with regularly. (And just because I love animals so much, I also worked at a Zoo for awhile!) I've been sharing my best ideas with others by blogging full-time since 1998 (the same year that Google started… and before the days of Facebook and YouTube). My daily motivation is to help first-time dog owners be better prepared from the first day your new puppy enters your home. I like to help dog owners understand what's 'normal' and what you can expect in terms of living with and training your dog — how to get through the ups & downs of potty training, chewing, teaching commands, getting your dog to listen, and everything else that takes place during that hectic first year! When I'm not training, walking, grooming, or making homemade treats for my dogs, you will find me at the corner of Good News & Fun Times as publisher of The Fun Times Guide (32 fun & helpful websites). To date, I've written over 600 articles for dog owners on this site! Many of them have upwards of 200K shares.