This post may contain affiliate links. If you buy thru these links, we may earn a commission at no additional cost to you.
---
If you walk your dog on a leash, then you have to pick up dog poop.
Such is why you need to find some dog waste bags and a dog poop bag holder or dispenser that you like.
The bags… I'm not so particular about.
There are the biodegradable dog poop bags — which we use because I always find the best deal on them. And, truth is, most every poop bag manufacturer is making their bags biodegradable these days. If you look hard enough, you'll also find the super-tough ones that are extra thick and durable, as well as the lavender scented ones!
I usually get these blue dog poop bags (because they're cheap, but they're a little on the thin side), or these silver gray dog poop bags (because they're really good quality, and they go on sale a lot).
Okay, so pick out the dog waste bags of your choosing. That's the easy part.
Finding a dog poop bag holder that you like… now that's a whole 'nother story!
Dog Waste Bag Dispensers
Actually there are lots of "cutesy" ones out there. Perfect, if that's your style. It's not mine.
In case you're wondering, I even consider most of the "Bags on Board" dog waste bag dispensers too cute, but that's just me. Plus, I don't like the hard-case shell that most come with — because it's more likely to break, scratch, and just get in the way.
I have a 90 lb. male black lab, and we're all business around here.
No lace & studs. No loud & obnoxious color patterns. No jingly-jangly doo-dads & noisemakers as you carry it. Just a plain 'ol poop bag & poop bag holder is all I'm after. The less noticeable, the better. And if it were all black, that would suit me just fine.
Plus, I have to take into consideration the fact that there are those times when hubby is holding the dog leash during our dog walks with Tenor. And the last thing he would want is an "adorable" dog poop bag dispenser dangling from his wrist… his hip… or the leash itself!
Well, I'm happy to say that I finally found it. I found the dog waste bag holder of my dreams! (Okay, so that's a bit of an exaggeration, but it rates right up there.)
First, I'll give you the run-down of 2 other dog waste bag dispensers I've tried, along with the good points and bad points of each.
2 Other Dog Poop Bag  Holders I've Tried
(#1)  First we went for the big & bulky dog poop picker-upper called the Pet Waste Pickup Tool. It actually serves 2 purposes:
It's a clean, no mess, no-touch method of picking up dog poop.
It keeps the poop out of sight (inside the scoop) until you get to a garbage bin to dispose of it.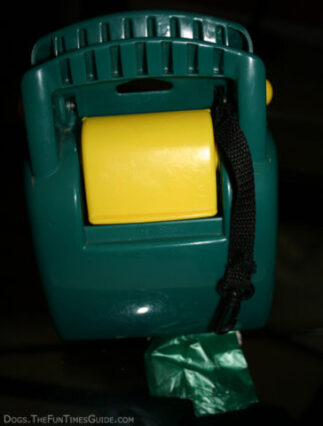 You use regular dog poop bags that come in rolls. There's actually a little hidden door for access to the poop bags. The roll of bags is always there, and you just leave one bag dangling inside the jaws of this poop scooper at all times.
Then, when you need to use this pooper scooper to pick up dog waste… just pull the bag through from the inside of the scoop's arms (which open and close like jaws), and pull it out far enough to wrap it around the outside of the scoop itself.
Finally, use your hand to "open up" the bag that's inside the scoop (…cuz you know how those dog pop bags tend to stick shut and the poop has to have a place to go once you grab it between the jaws of this poop scooper).
I used to love this pooper scooper. We took it everywhere we went. We still have it. And it's still in great condition — even though we used it regularly for years! The fact that the bags come from the inside of the scooper and wrap around the outside means there is not an inch of the scoop itself that ever touches the poop. It's a completely clean way to pick up dog waste.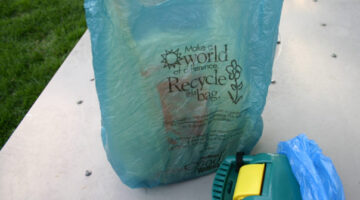 Even though we've switched to a smaller, more portable dog waste bag dispenser system, we still use this poop scooper occasionally to pick up all the piles of dog poo in our backyard — like before we mow the lawn. It's quick, and easy. Love it!
(#2)  Then, the first "on board" (meaning: it attaches right onto your dog's leash) dog waste bag dispenser that we tried was pretty good — until it fell off our dog's leash and we lost it.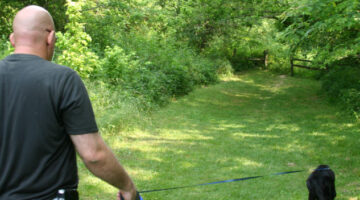 It was the Poop Patrol pet waste dispenser. And the fact of the matter is… it fell off the handle of our dog leash all the time. So we knew it was just a matter of time before it would no longer remain attached to our dog's leash.
You see, the method of attachment is not velcro or anything with a permanent lock to it. Instead, it's a rubberized flap, with grooves, and that flap slips into a loop. The grooves are supposed to "catch" on the edges of the loop — effectively locking it into place. It's not so effective after all. If the folks at Poop Patrol switched to a velcro strap, I'd buy another one of these in a heartbeat.
One bonus to this dog poop bag dispenser was the reflective strip along the back. That was especially nice when we were out walking at night.
When the strap was working properly, you could attach it to the very back of the Flexi retractable dog leash — so it was completely out of the way of your hand while you were holding onto the leash.
Plus, it wasn't an eyesore, nor was it too "cute". It was very practical. And it came in a very practical color: silver gray with black trim. I really dug it.
My New Favorite Dog Waste Bag Holder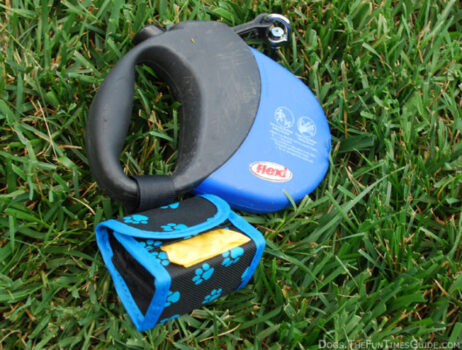 My favorite dog waste bag holder is the Paw Print Dispenser by Five Star Pet. I got mine yesterday.
I've never seen this type of dog waste dispenser in any pet store around here (Nashville) before, so I was absolutely thrilled when I saw this one!
For a short time, I did consider getting one like these: either the Flexi Leash Accessory Bag or the Kyjen Leash Mate. But I wasn't crazy about the extra "bulk".
If Flexi made a retractable leash with an on-board bag dispenser (rather than as an attachment), then I'd jump right on it. I really like their durable, excellent quality leashes!
So I'm quite content with my new poop bags holder.
I mostly like how it actually dispenses individual bags quite easily — rather than having to twist and tug and dig way inside to grab the bag. And, it's easy to refill with new bags when you run out. It holds most any size of dog poop bags — so long as they come in the roll form. (Unless you just want to stuff a few in there freely.)
Bonus: This dog bag holder could also serve as a dog treat pouch for use during puppy training classes, at the dog park, or any time you're out & about. It's like a tiny little bag, so it could actually hold anything!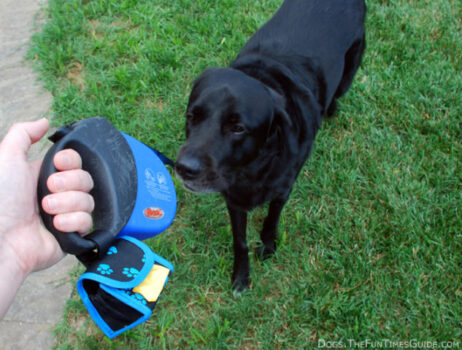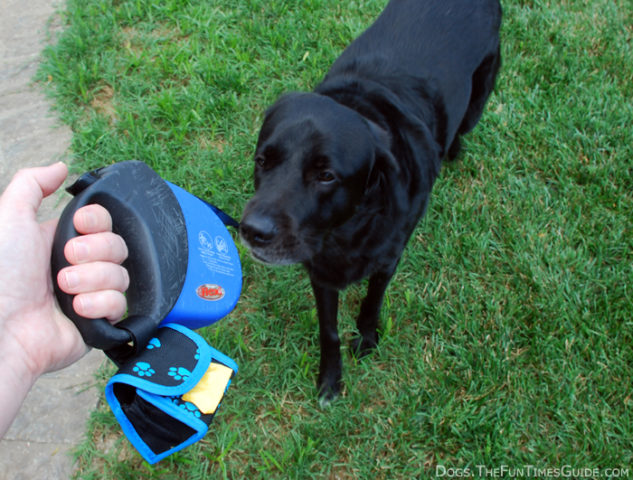 I really like how this dog waste bag dispenser velcros firmly onto your dog's leash, or your dog's collar, or your belt loop — wherever you want to put it, it will stay secure. (Not so with the Poop Patrol dog bag dispenser that we used prior to this.) With the velcro strap that's firmly attached, you can place it just about anywhere you want — up high, down low, long-ways, thin-ways, you get the idea. In our case, we've attached it so it most closely matches the profile of our retractable dog leash.
And finally, I like how this dog waste bag holder is very small and compact. I don't like bringing attention to myself or my dog's accessories, and the Doggie Walk Bags dispenser just sort of "hangs out" next to your wrist. This is, if you attach it to a Flexi retractable dog leash like we do.
I'll be very honest now… it's just a tad too noticeable for my liking. The light blue trim is fairly obvious, as are the baby blue paw prints — kinda "cutesy" if you ask me.
All in all, the Doggie Walk Bags holder meets a lot of needs for us, and I'm sure it will last quite a long time. Plus, I don't think Jim will feel too silly walking around with this one.
UPDATE: There's nothin' cutesy about this one — it's all leather! For the dog (and dog owner) who has everything, check out this genuine leather pet poop bag dispenser.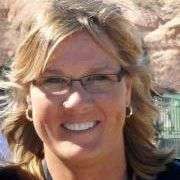 I like to help Dog Parents find unique ways to do things that will save time & money — so I write about "outside the box" Dog Tips and Dog Hacks that most wouldn't think of. I'm a lifelong dog owner — currently have 2 mixed breed Golden Aussies that we found abandoned on the side of the road as puppies. I've always trained my own dogs and help friends train theirs, as well. Professionally, I worked at a vet and have several friends who are veterinarians — whom I consult with regularly. (And just because I love animals so much, I also worked at a Zoo for awhile!) I've been sharing my best ideas with others by blogging full-time since 1998 (the same year that Google started… and before the days of Facebook and YouTube). My daily motivation is to help first-time dog owners be better prepared from the first day your new puppy enters your home. I like to help dog owners understand what's 'normal' and what you can expect in terms of living with and training your dog — how to get through the ups & downs of potty training, chewing, teaching commands, getting your dog to listen, and everything else that takes place during that hectic first year! When I'm not training, walking, grooming, or making homemade treats for my dogs, you will find me at the corner of Good News & Fun Times as publisher of The Fun Times Guide (32 fun & helpful websites). To date, I've written over 600 articles for dog owners on this site! Many of them have upwards of 200K shares.