This post may contain affiliate links. If you buy thru these links, we may earn a commission at no additional cost to you.
---
If you decide to groom your dog yourself, using the right Shih Tzu grooming tools can make all the difference!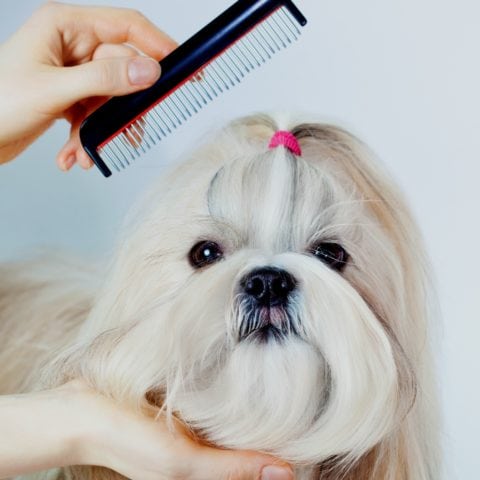 You may be tempted to save some extra cash by getting cheap dog grooming tools from Walmart, but I'm speaking from experience when I say that it really is worth it to get Shih Tzu grooming tools that have been proven to work well on this breed from the beginning.
The first time I cut my Shih Tzu's hair, I used clippers that I bought at the pet store for less than $20 — it was a terrible experience. The clippers kept getting caught in the mats of his fur and the blade would get too hot every time I started making headway. It took hours… and Chester and I were both cranky by the end of it.
I complained to a friend of mine, who happens to be a professional dog groomer. He told me that my cheap clippers were undoubtedly the problem. He let me borrow an old set of clippers that he had lying around for my next grooming session — and it made all the difference! The next time I cut Chester's hair, the clippers could get through his fur easily, they were so much quieter, and the blade didn't get hot as often.
Here are 3 Shih Tzu grooming tools that you will need to clip, brush, and comb your dog at home:
#1 – Clippers
Andis, Wahl, and Oster all make great dog clippers that work well for a Shih Tzu.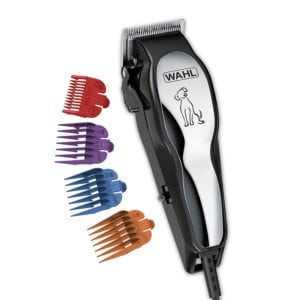 You will need a variety of blades for most Shih Tzu hair styles — so be sure to get a pair of clippers that has a detachable blade. Appropriate blades sizes will be a 10, 7, and 4 or 4F for most cuts. (Comb attachments can also be used in the place of different blade sizes.)
TIP: You may be wondering why it's important to purchase a pair of clippers that are specifically made for dogs instead of using human clippers. Humans have much thinner hair, and we have a lot less of it than dogs do. Human clippers are slower than dog clippers, and they heat up faster since the motor has to work twice as hard to get through a Shih Tzu's 2 coats.
#2 – Brushes
The best way to maintain Shih Tzu hair is to brush it on a regular basis.
It is crucial to get brushes that are designed for brushing Shih Tzu hair. Their double coat can make it tricky — because you really need to get through all of that dense outer layer to get to that wooly inner layer. Some dog brushes will just brush the top coat, while others will break or bend when you use them.
The first type of brush that you absolutely need to groom your Shih Tzu is a pin brush. These brushes are similar to human brushes, but they are stronger and made for detangling. They have metal pins with rounded ends — so that they're not too sharp. Most importantly, they are durable and long enough to go through both of a Shih Tzu's coats.
Pin brushes come in a variety of shapes and pin sizes:
For a Shih Tzu with short hair… you want a brush with 20-millimeter pins.
For a long-haired Shih Tzu… you need a 27-millimeter pin brush.
TIP: If you're going to keep your dog's hair at different lengths depending on the season, then you should buy the longer pin size brush.
A slicker brush is the second type of brush that you need for Shih Tzu grooming. Slicker brushes have the same metal pins, but the pins don't have the rounded edges — so they're much sharper. They are perfect for brushing all the way through the undercoat and getting out those painful mats and tangles.
Shih Tzus tend to get mats in hard-to-reach areas — like under their legs or behind their ears. Triangular-shaped slicker brushes are perfect for getting mats in hard-to-reach areas, while also allowing the wider end to be used on the rest of the body. A triangle dog slicker brush will make your life so much easier!

TIP: You should never use a slicker brush around your dog's eyes or face — because one slip of your hand could blind or hurt your dog.
A pin brush and a slicker brush are the only 2 absolute must-haves.
But if you want to take it a step further…
You can also get a boar bristle brush. Bristle brushes will not get through a lot of tangles, but they are great for giving your Shih Tzu a shiny coat and a finished look. Dogs love the feel of bristle brushes, and they stimulate the skin to release natural oils that are great for your dog's skin and coat.
And if you have a very young Shih Tzu, you will need to invest in some dog brushes specifically made for puppies. Shih Tzu puppies have not grown their second coat yet, and they usually do not have mats or tangled hair.
Adult dog brushes will be too harsh for a puppy's sensitive skin, and it's important to give them positive associations with grooming — so that they don't hate it when they get older. The good news is that you don't have to buy as many different kinds of brushes for Shih Tzu puppies, and puppy brushes can still be used for things like face brushing once your dog gets older.
It may seem like an unnecessary expense at first, but — trust me — it is totally worth it to invest in a good set of dog brushes, especially when you have a Shih Tzu!
I have tried using cheap dog brushes from the pet store, and I've been frustrated every time — because:
The pins on cheap brushes just aren't strong enough for a Shih Tzu's matted hair — the pins constantly break or bend while brushing.
Sometimes, the pins are too sharp, and they will dig into your dog's skin — as a result, your dog will hate being brushed if it's a painful experience.
My Shih Tzu Chester loves being brushed — but every time I've tried to use a cheap brush, he immediately growls, barks, and runs away. I have thrown away several cheap brushes in the past, but the professional-quality ones that I've spent a little extra money on have lasted, and they've never hurt my pup.
#3 – Combs
In addition to brushes, you want at least 1 comb in your Shih Tzu grooming tools — because:
Combs are perfect for detangling any final mats or tangles in sensitive places.
They are also a safer option for combing and cleaning your dog's face.
A greyhound comb is an excellent choice for virtually every Shih Tzu owner, but you may want a comb that is designed specifically for your Shih Tzu's hairstyle.
If you're going to keep your Shih Tzu's hair long, or have a top knot on the top of his head, a rattail comb is the best option — because they make parting and separating the hair effortless.
If your Shih Tzu ends up with a lot of dirt or debris (especially around the face), then a flea comb is an excellent fine-toothed choice for getting out all of those little crumbs.
Adam's first Shih Tzu was a gift he received while recuperating from an accident — he enjoyed the companionship agnd quickly fell in love with the breed! After researching everything there is to know about Shih Tzus, he became passionate about adopting more. At his website, The Shih Tzu Expert, Adam shares his personal tips and experiences raising Shih Tzus in order to assist others who are considering getting a Shih Tzu.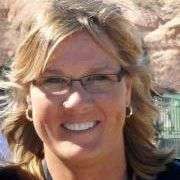 I like to help Dog Parents find unique ways to do things that will save time & money — so I write about "outside the box" Dog Tips and Dog Hacks that most wouldn't think of. I'm a lifelong dog owner — currently have 2 mixed breed Golden Aussies that we found abandoned on the side of the road as puppies. I've always trained my own dogs and help friends train theirs, as well. Professionally, I worked at a vet and have several friends who are veterinarians — whom I consult with regularly. (And just because I love animals so much, I also worked at a Zoo for awhile!) I've been sharing my best ideas with others by blogging full-time since 1998 (the same year that Google started… and before the days of Facebook and YouTube). My daily motivation is to help first-time dog owners be better prepared from the first day your new puppy enters your home. I like to help dog owners understand what's 'normal' and what you can expect in terms of living with and training your dog — how to get through the ups & downs of potty training, chewing, teaching commands, getting your dog to listen, and everything else that takes place during that hectic first year! When I'm not training, walking, grooming, or making homemade treats for my dogs, you will find me at the corner of Good News & Fun Times as publisher of The Fun Times Guide (32 fun & helpful websites). To date, I've written over 600 articles for dog owners on this site! Many of them have upwards of 200K shares.