---
We write about products and services that we use. This page may contain affiliate links for which we receive a commission.
Who knew you that could actually MARRY your pet?!?
In this day & age, I guess I'm not surprised.
Turns out there's such a thing as a "pet and partners priest"… and Matilda at MarryYourPet.com is one such individual.
"So, you adore your pet, consult him when channel switching and give him fish every Sunday. But if you really love him and you're in this for life, isn't it time you married your pet?"
Here's one happy couple's story (…with photos!)
Many more happy couples have shared their stories online too.
Wedding Ceremonies For Pets & People
So, what type of wedding ceremonies do people and their pets have?
Well, you can choose from:
a "small wedding" ($10 certificate only)
a "big wedding" ($35 certificate and t-shirt)
a "bigger wedding" ($200 certificate, t-shirt and embroidered wall plaque)
You can even give someone a gift certificate to marry their pet! You pre-pay for the small, big, or bigger wedding package, and they get a certificate that says: "Your friend wants you to marry your pet."
"Happiness would never end if you'd only marry your furry friend."
Reasons To Marry Your Pet
Why should you marry your pet, you ask? Check out these Marry Your Pet FAQs for the answers to your many questions.
Here are the rules & regulations for marrying your pet. (Rule #1: "This is a contract between you, your pet, and MarryYourPet. It is not recognized by a court of law.")
Whatever you do… before you take the plunge, be sure to check out this compatibility chart first to see whether you and your pet are "soul mates," or "made for each other." Or whether the relationship will be "good but hard work." Or, if you should "insist on a pre-nup" or "run while you still can."
Fun For All
By the tone of the pages on the Marry Your Pet website, this is all in good fun.
And by the tone of the messages on the Marry Your Pet message board, many people are having a good time "playing along":
"I am having an affair with next door's hamster Squeeks, but I think he's cheating on me with the milk man. What should I do? I've already proposed, but he hasn't given me an answer yet…"
Get More Bang For Your (Wedding) Buck
If you DO choose to marry your pet… you might even get on TV!
The BBC is currently seeking participants for their upcoming documentary series about pets and their owners. They're looking at everything from pet funerals, to pet grooming, to pet weddings.
Interested? Email them today!
More About Marrying Your Pet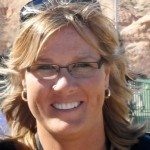 I like to help Dog Parents find unique ways to do things that will save time & money — so I write about "outside the box" Dog Tips and Dog Hacks that most wouldn't think of. I'm a lifelong dog owner — currently have 2 mixed breed Golden Aussies that we found abandoned on the side of the road as puppies. I've always trained my own dogs and help friends train theirs, as well. Professionally, I worked at a vet and have several friends who are veterinarians — whom I consult with regularly. (And just because I love animals so much, I also worked at a Zoo for awhile!) I've been sharing my best ideas with others by blogging full-time since 1998 (the same year that Google started… and before the days of Facebook and YouTube). My daily motivation is to help first-time dog owners be better prepared from the first day your new puppy enters your home. I like to help dog owners understand what's 'normal' and what you can expect in terms of living with and training your dog — how to get through the ups & downs of potty training, chewing, teaching commands, getting your dog to listen, and everything else that takes place during that hectic first year! When I'm not training, walking, grooming, or making homemade treats for my dogs, you will find me at the corner of Good News & Fun Times as publisher of The Fun Times Guide (32 fun & helpful websites). To date, I've written over 500 articles for dog owners on this site! Many of them have upwards of 200K shares.