---
Some articles on this site contain affiliate links. If you purchase through these links, we may earn a small commission at no additional cost to yourself.
---
Following are some interesting one-on-one confrontations that have occurred between our dogs and wild animals.
Plus tips from the experts on what you should do if your dog as a run-in with some form of wildlife.
Don't be like I was when my dog caught a rabbit. It's better if you have some idea ahead of time what you should do…
Dog / Animal Encounters In My Backyard
We have a fenced-in backyard. We're talking a 6-foot privacy fence with no gaping wide openings.
Yet somehow, wildlife manages to venture into our enclosed yard and taunt our dogs — year after year.
Let's see… to date, we have dealt with:
A half-a-dozen or so frogs & toads …which I'm terrified will poison the dogs if they get just one lick, not to mention a mouthful of toad.
A mama bird …that chooses our toasty warm dryer vent as the place to make her nest and hatch her eggs each Spring. Only problem: the dryer vent is up high, and comes out the side of our house. It must be at a downward slope too, because each year one or two of the eggs always fall out and land on the ground — cracked. It's a tasty breakfast treat for dogs.. (They're very small blue eggs.)
A skunk …that was seeking refuge under our big air conditioning block. We had to deal with this one during a late-night potty break, and it took a water hose on full blast to scare it out from under there. (Fortunately no one got skunked!)
A million and one other birds …that enjoy the neighbor's bird feeders, and choose our tall fence as the place to digest their food (and leave their droppings!). Our dogs both have a lot of Black Lab in them, and they seem to be excellent bird dogs. They eye the birds from a distance, then slowly creep up on the ones sitting on our fence. At the precise moment, they then charge ahead full-speed & scare the birds away.
The occasional mack-daddy-sized grasshopper …which fascinates the dogs for hours. They'll just lay in wait, watching a grasshopper's every move — without causing it any harm.
A gazillion or more Japanese beetles …which, until this year, have been completely ignored by our dogs. But for some reason, little Tenor has chosen to test his bug-snatching abilities on as many Japanese Beetles as he can catch. (He's dead-on accurate, too!) Now he serves as a canine flyswatter in the house.
Squirrels & chipmunks galore … enough to send our 3-year-old Black Lab-Golden Retriever mix into a salivating, body-trembling, mad barking frenzy just about each and every day. Squirrels are the most common wildlife sightings for many dogs.
Oh, and did I mention the crawfish? I have no idea where that one came from, because we don't live anywhere near water. I would have to assume that one of the above mentioned birds whisked it away and dropped it off in our yard. Probably in the bird's haste to exit the premises before being swarmed by some Japanese beetles, licked by a nasty toad, pounced on by a backyard bunny, carried up a tree by a squirrel, or worst of all — skunked!
Twice, our dogs have discovered rabbit holes filled with baby bunnies. First, our Black Lab / Golden Retriever found some newborn bunnies a few years ago. And recently, our Great Pyrenees / Black Lab found some bunnies in a rabbit hole and watched over them for days until they all left the nest.
Yep, those are all common occurrences in and around our quiet suburban backyard!
Geesh, I can't wait until we move to our new house in the beautiful countryside. There are bound to be many episodes featuring deer vs dog and dog vs turkey! Hopefully, there won't be any dog vs snake or dog vs turtle encounters.
What To Do If Your Dog Encounters Wildlife
For the record, here's what you should do if your dog has a run-in with some form of wildlife.
Don't allow predatory wildlife to get comfortable with being near humans and our homes! Yell, wave your arms, and even throw things at intruders. This could save not only your pet's life, but also that wild animal. If a wild animal does not leave or becomes aggressive, report it. Source
Here are a few unique things you should do if you (or your dog) come face-to-face with the following wildlife:
Where To Find Help
So, if your dog crosses paths with some form of wildlife in your presence, do this:
If the animal is not injured: Just leave it be. It's best to let wild animals remain wild, and don't try to nurture them or care for them yourself. They are less likely to survive if separated from their natural environment.
If the animal is hurt: Contact a Wildlife Rehabber or a professional wildlife removal expert in your area.
TIP: If you can't locate anyone in your area, then contact your state game department which issues permits to wildlife rehabilitators. Many have current listings of state-permitted wildlife rehabbers and wildlife rehabilitation facilities on their websites.
There's really no need to panic. Many dogs actually "make friends" with creatures from other species.
Here's a tribute to some interspecies relationships that have lasted. More here, here, and here.
Then again, some don't.
Got a minute?… Please answer this quick survey about your dog's interactions with wildlife!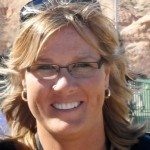 I like to help Dog Parents find unique ways to do things that will save time & money — so I write about "outside the box" Dog Tips and Dog Hacks that most wouldn't think of. I'm a lifelong dog owner — currently have 2 mixed breed Golden Aussies that we found abandoned on the side of the road as puppies. I've always trained my own dogs and help friends train theirs, as well. Professionally, I worked at a vet and have several friends who are veterinarians — whom I consult with regularly. (And just because I love animals so much, I also worked at a Zoo for awhile!) I've been sharing my best ideas with others by blogging full-time since 1998 (the same year that Google started… and before the days of Facebook and YouTube). My daily motivation is to help first-time dog owners be better prepared from the first day your new puppy enters your home. I like to help dog owners understand what's 'normal' and what you can expect in terms of living with and training your dog — how to get through the ups & downs of potty training, chewing, teaching commands, getting your dog to listen, and everything else that takes place during that hectic first year! When I'm not training, walking, grooming, or making homemade treats for my dogs, you will find me at the corner of Good News & Fun Times as publisher of The Fun Times Guide (32 fun & helpful websites). To date, I've written over 600 articles for dog owners on this site! Many of them have upwards of 200K shares.