---
In writing about our personal experiences, we sometimes mention products or services that we use or recommend. This page may contain affiliate links for which we receive a commission.
What?!
Walking your dog is a better weight-loss tactic than dieting?
Yep, it's been proven that dog walking is more effective than dieting.
I LOVE that!
Walking the dog 20 minutes a day, 5 days a week produced an average weight loss of 14 pounds for participants in a University of Missouri-Columbia study. Source
This is a recent study, so it's intriguing to think that they just might be onto something in this day & age.
The health benefits from dog ownership have long been understood (lowering blood pressure, increasing mental attitude and sharpness, lowering the risk of heart disease), but this is the first time that the benefits from dog walking have been proven.
I just want to say thanks to the University of Missouri-Columbia for studying the effects of walking your dog on your overall health!
The result: some heart-healthy news you can use, sealed with a big wet kiss!
The Details…
"Researchers said the participants began the program by walking 10 minutes per day, 3 times each week. Eventually, the participants walked up to 20 minutes per day, 5 times each week. During rainy days, the participants walked an inside route." Source
"The first first group walked for 50 weeks, and the second group walked for only 26 weeks. Johnson found that the first group averaged a weight loss of 14 pounds, a better result than most of the nationally known weight-loss plans report."
"Even though we didn't see a significant amount of weight loss in the group that walked for a shorter period of time, by the end of the study, all the participants were walking for longer periods of time and walking for daily errands instead of using some other type of transportation."
This goes hand-in-hand with a study the University of Missouri-Columbia did last year:
"Some participants in our Walking for Healthy Hearts program have lost as much as 30 pounds since we began six months ago." Source
And in yet ANOTHER dog-walking study, it was determined:

"If all dog owners would just walk their pet for at least 150 minutes per week the percentage of the population doing sufficient physical activity would increase from 47 to 71 per cent. Such an increase would be much greater than most of the broad national campaigns designed to promote physical activity." Source
By the way, when I asked my oh-so-fit chiropractor why he chooses walking, rather than running as exercise, he said (paraphrased):
…Because you get the same healthy return from running no matter how much of it you do — 3 miles or 15 miles. Whereas with walking, there's no plateau, the more you walk the more the healthy effects impact your body… so it's more motivating to keep increasing the amount you walk and the speed with which you walk.
Which, I guess, makes it seem less like exercise and more like a personal challenge — in ADDITION to the more immediate reward.
So… there's no excuse anymore. Let's get out there and walk our dogs!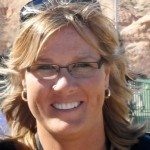 I like to help Dog Parents find unique ways to do things that will save time & money — so I write about "outside the box" Dog Tips and Dog Hacks that most wouldn't think of. I'm a lifelong dog owner — currently have 2 mixed breed Golden Aussies that we found abandoned on the side of the road as puppies. I've always trained my own dogs and help friends train theirs, as well. Professionally, I worked at a vet and have several friends who are veterinarians — whom I consult with regularly. (And just because I love animals so much, I also worked at a Zoo for awhile!) I've been sharing my best ideas with others by blogging full-time since 1998 (the same year that Google started… and before the days of Facebook and YouTube). My daily motivation is to help first-time dog owners be better prepared from the first day your new puppy enters your home. I like to help dog owners understand what's 'normal' and what you can expect in terms of living with and training your dog — how to get through the ups & downs of potty training, chewing, teaching commands, getting your dog to listen, and everything else that takes place during that hectic first year! When I'm not training, walking, grooming, or making homemade treats for my dogs, you will find me at the corner of Good News & Fun Times as publisher of The Fun Times Guide (32 fun & helpful websites). To date, I've written over 500 articles for dog owners on this site!