For me, it all started with a free copy of Dog's Life, a free 4-color magazine subscription from Beneful.
On the back of my first issue of Dog's Life was a $2.00 coupon good on any size bag of Beneful dog food.
I used that coupon at my local Target. And my dog has been hooked on Beneful ever since.
My Dog Enjoys Mealtimes More
To be honest, I still use Nutro dog food as the base for my dog's meals.
I merely mix the Beneful in with the Nutro and pour it into my dog's food bowl.
I use a standard Tupperware or Rubbermaid cereal box-type container and I premix the Nutro with the Beneful in there — at a ratio of 3 to 1 (…just eyeballing it — more Nutro than Beneful).
Shake it all up in the plastic container, and there you have it… the perfect meal for my dog that stores in a handy container and lasts several weeks.
The way I look at it, Beneful is a great complement to my dog's diet. He absolutely loves it.
It's just that I have a long history with Nutro products. For years, I've seen my dogs thrive on Nutro, so I'm not really inclined to switch my dog's food at this time.
Another Way I Incorporate Beneful Into My Dog's Diet
I use Kong toys whenever we leave the dog home alone. I usually fill them with BilJac and peanut butter — often with an added "treat" thrown in for good measure.
Lately, that "treat" has been several pellets of the Beneful dog food. I keep a small plastic container of Beneful pellets near the peanut butter jar and Kongs in our kitchen. As soon as I crack the lid on the Beneful, my dog comes running!
I think one of the reasons he likes it is because it's a semi-moist dry dog food. Technically, they say it's "a dry dog food with moist chewy chunks".
One of the reasons I like it best is because it comes in a unique zip-lock bag. It's quite convenient.
What I Didn't Know About Beneful
When I was in the store and checking out the different flavors of Beneful dog food, I simply chose the one that had chicken & rice in it. Why? Because my dogs have always thrived on lamb, chicken, and rice products.
Had I looked at the label more closely, I would have seen that the flavors actually corresponded to some very specific "benefits".
For instance, the chicken & rice (green bag) that I bought is the "healthy weight" formulation which is a lower calorie dog food. My dog doesn't necessarily need a weight management type of food, but since he's mostly eating Nutro, a little of this each day won't hurt him. Like I said… Beneful is the perfect complement in our household!
The others Beneful forumations are:
So… if you would like to see what Beneful food is all about, and maybe get a $2.00 off coupon of your own (…though I'm sure that "special" might end eventually), I recommend signing up for
Beneful's FREE magazine called Dog's Life
.
It's a great magazine, by the way! My issue had 16 full-color pages and lots of great ideas for fun ways to interact with your dog. I actually underlined tons of things inside, so I'd remember to try those things with my own dog.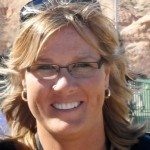 I like to help people find unique ways to do things in order to save time & money — so I write about "outside the box" ideas that most wouldn't think of. As a lifelong dog owner, I often share my best tips for living with and training dogs. I worked in Higher Ed over 10 years before switching gears to pursue activities that I'm truly passionate about. I've worked at a vet, in a photo lab, and at a zoo — to name a few. I enjoy the outdoors via bicycle, motorcycle, Jeep, or RV. You can always find me at the corner of Good News & Fun Times as publisher of The Fun Times Guide (32 fun & helpful websites).
,