---
In writing about our personal experiences, we sometimes mention products or services that we use or recommend. This page may contain affiliate links for which we receive a commission.
For me, it all started with a free copy of Dog's Life, a free 4-color magazine subscription from Beneful.
On the back of my first issue of Dog's Life was a $2.00 coupon good on any size bag of Beneful dog food.
I used that coupon at my local Target. And my dog has been hooked on Beneful ever since.
My Dog Enjoys Mealtimes More
To be honest, I still use Nutro dog food as the base for my dog's meals.
I merely mix the Beneful in with the Nutro and pour it into my dog's food bowl.
I use a standard Tupperware or Rubbermaid cereal box-type container and I premix the Nutro with the Beneful in there — at a ratio of 3 to 1 (…just eyeballing it — more Nutro than Beneful).
Shake it all up in the plastic container, and there you have it… the perfect meal for my dog that stores in a handy container and lasts several weeks.
The way I look at it, Beneful is a great complement to my dog's diet. He absolutely loves it.
It's just that I have a long history with Nutro products. For years, I've seen my dogs thrive on Nutro, so I'm not really inclined to switch my dog's food at this time.
Another Way I Incorporate Beneful Into My Dog's Diet
I use Kong toys whenever we leave the dog home alone. I usually fill them with BilJac and peanut butter — often with an added "treat" thrown in for good measure.
Lately, that "treat" has been several pellets of the Beneful dog food. I keep a small plastic container of Beneful pellets near the peanut butter jar and Kongs in our kitchen. As soon as I crack the lid on the Beneful, my dog comes running!
I think one of the reasons he likes it is because it's a semi-moist dry dog food. Technically, they say it's "a dry dog food with moist chewy chunks".
One of the reasons I like it best is because it comes in a unique zip-lock bag. It's quite convenient.
What I Didn't Know About Beneful
When I was in the store and checking out the different flavors of Beneful dog food, I simply chose the one that had chicken & rice in it. Why? Because my dogs have always thrived on lamb, chicken, and rice products.
Had I looked at the label more closely, I would have seen that the flavors actually corresponded to some very specific "benefits".
For instance, the chicken & rice (green bag) that I bought is the "healthy weight" formulation which is a lower calorie dog food. My dog doesn't necessarily need a weight management type of food, but since he's mostly eating Nutro, a little of this each day won't hurt him. Like I said… Beneful is the perfect complement in our household!
The others Beneful forumations are:
So… if you would like to see what Beneful food is all about, and maybe get a $2.00 off coupon of your own (…though I'm sure that "special" might end eventually), I recommend signing up for
Beneful's FREE magazine called Dog's Life
.
It's a great magazine, by the way! My issue had 16 full-color pages and lots of great ideas for fun ways to interact with your dog. I actually underlined tons of things inside, so I'd remember to try those things with my own dog.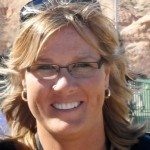 I like to help Dog Parents find unique ways to do things that will save time & money — so I write about "outside the box" Dog Tips and Dog Hacks that most wouldn't think of. I'm a lifelong dog owner — currently have 2 mixed breed Golden Aussies that we found abandoned on the side of the road as puppies. I've always trained my own dogs and help friends train theirs, as well. Professionally, I worked at a vet and have several friends who are veterinarians — whom I consult with regularly. (And just because I love animals so much, I also worked at a Zoo for awhile!) I've been sharing my best ideas with others by blogging full-time since 1998 (the same year that Google started… and before the days of Facebook and YouTube). My daily motivation is to help first-time dog owners be better prepared from the first day your new puppy enters your home. I like to help dog owners understand what's 'normal' and what you can expect in terms of living with and training your dog — how to get through the ups & downs of potty training, chewing, teaching commands, getting your dog to listen, and everything else that takes place during that hectic first year! When I'm not training, walking, grooming, or making homemade treats for my dogs, you will find me at the corner of Good News & Fun Times as publisher of The Fun Times Guide (32 fun & helpful websites). To date, I've written over 500 articles for dog owners on this site!